I absolutely love DIYing and building things myself. And I take great pride in being able to envision something like a piece of furniture, and then take it from concept to completion with my own two hands and a few tools.
…and then I built the thing from scratch. I was so proud of how it turned out!
I built that back in 2018, and it's still in our entryway today. I did give it a little makeover a couple of years ago, so it looks a little different today.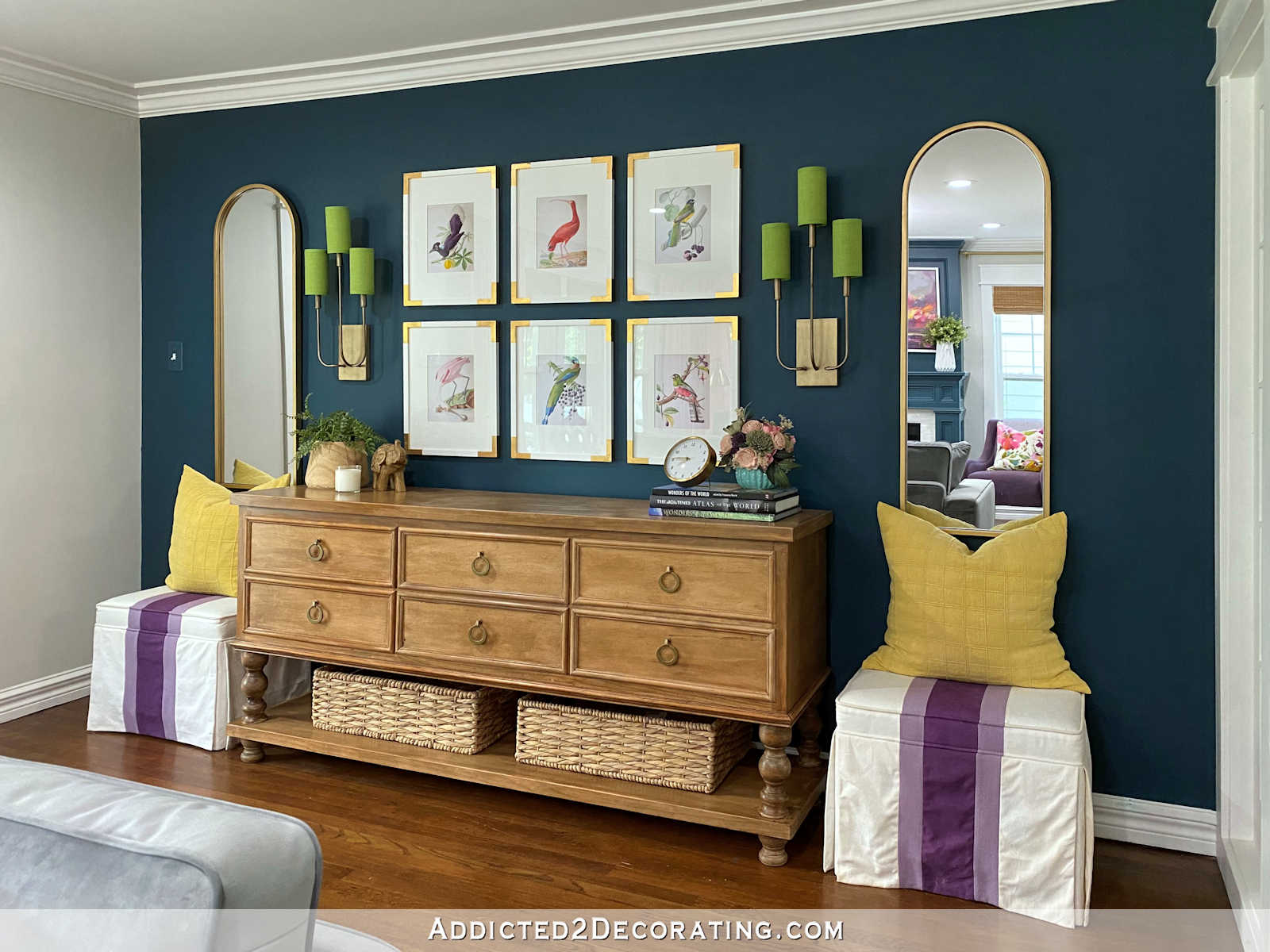 So that's the kind of thing I find a great deal of satisfaction in spending my time building. But there are other things that I've spent my time on over the years that I look back on and think, "Why?" Looking back, it doesn't seem like there was any real benefit to building it myself from scratch other than bragging rights. But now, I wish I had forgone the bragging rights and just made things faster and easier on myself.
What am I talking about specifically? Cabinets! If I could start at the beginning of our house remodel today, the one major difference would be my approach to all (or most) of the cabinets in our house. Specifically, I'd use IKEA cabinets.
I've made no secret of the fact that I'm now a huge fan of IKEA cabinets. I had never had any experience with them at all until I began working on my studio, so I'm a recent convert. 😀 But when I installed them on the long 20-foot mural wall in the studio, I became an instant fan.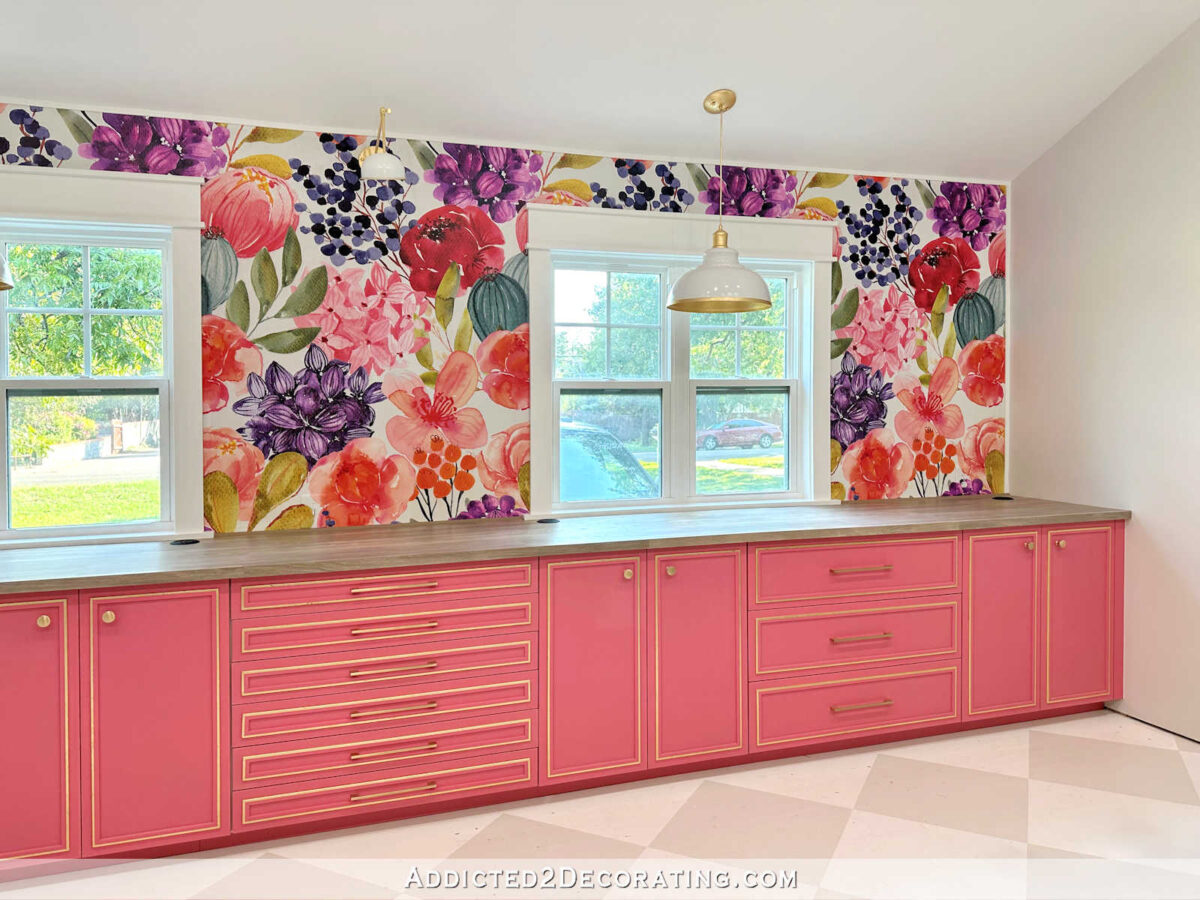 They're easy to put together, and they function very well. All of the doors and drawers are soft close, and there are so many customization options available that I've only just begun to delve into. Also, all of the doors and drawer fronts are three-way adjustable (in/out, left/right, up/down) so that you can get the spacing just right.
It's not that I'm unhappy with my DIY cabinets. My pantry cabinets are just fine. But I look back at all of the time I spent building my pantry cabinets from scratch, and while they turned out nice, I could have saved so much time and frustration by using IKEA cabinets.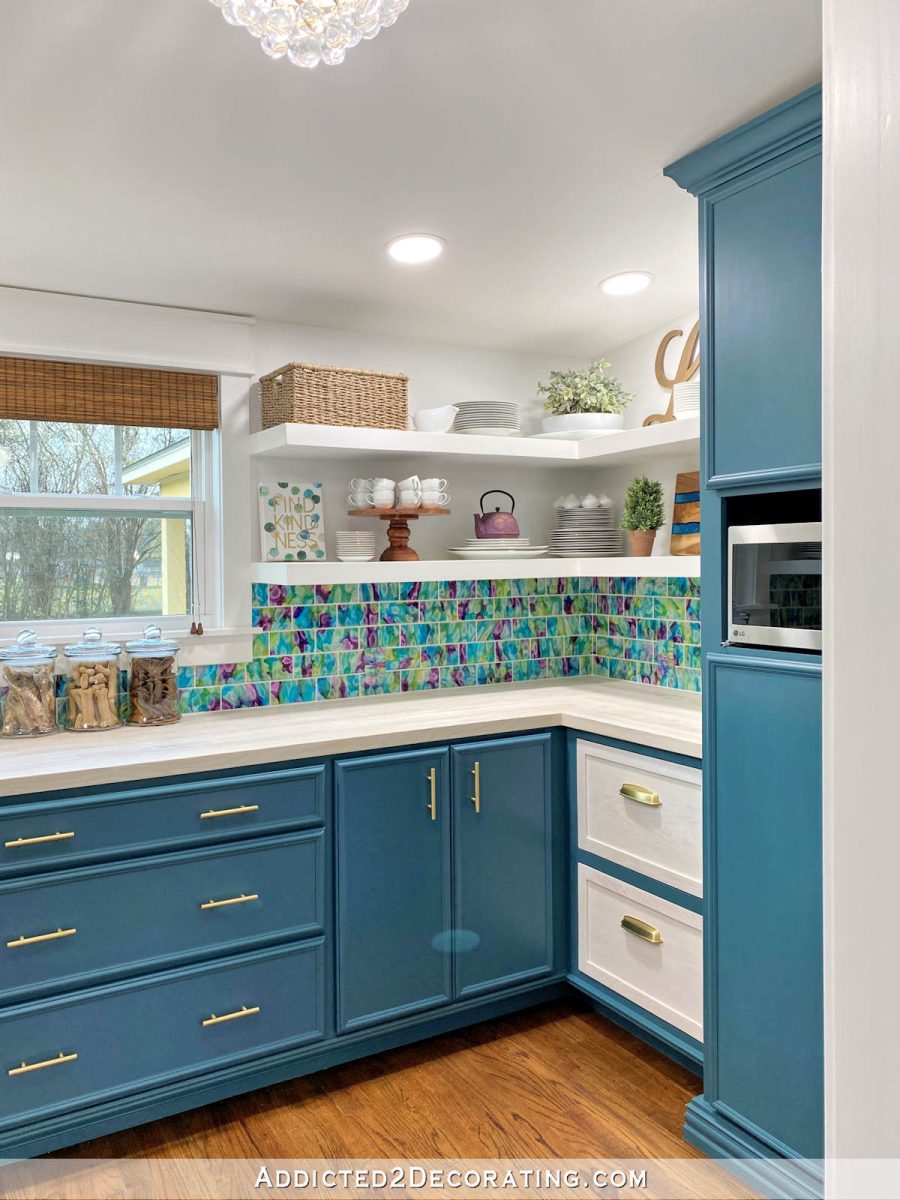 And I have to admit that there's part of me that wishes I could come up with a really good excuse for why I need to tear out these pantry cabinets and redo with IKEA cabinets. 😀 So far, I haven't thought of a good excuse, and I highly doubt that I can come up with one other than, "I want…". And that's not really a good excuse for tearing out perfectly good and functional cabinets. I'm okay with that. I really am satisfied with my pantry cabinets.
I just really like consistency. And knowing that I probably will one day relatively soon have a new IKEA kitchen, I do long for that consistency into the pantry. But again, I highly doubt that that will ever happen. I just can't justify the cost…and the waste it would produce.
We've already talked about the kitchen, and especially how inefficient and basically unusable the upper cabinets are on this wall.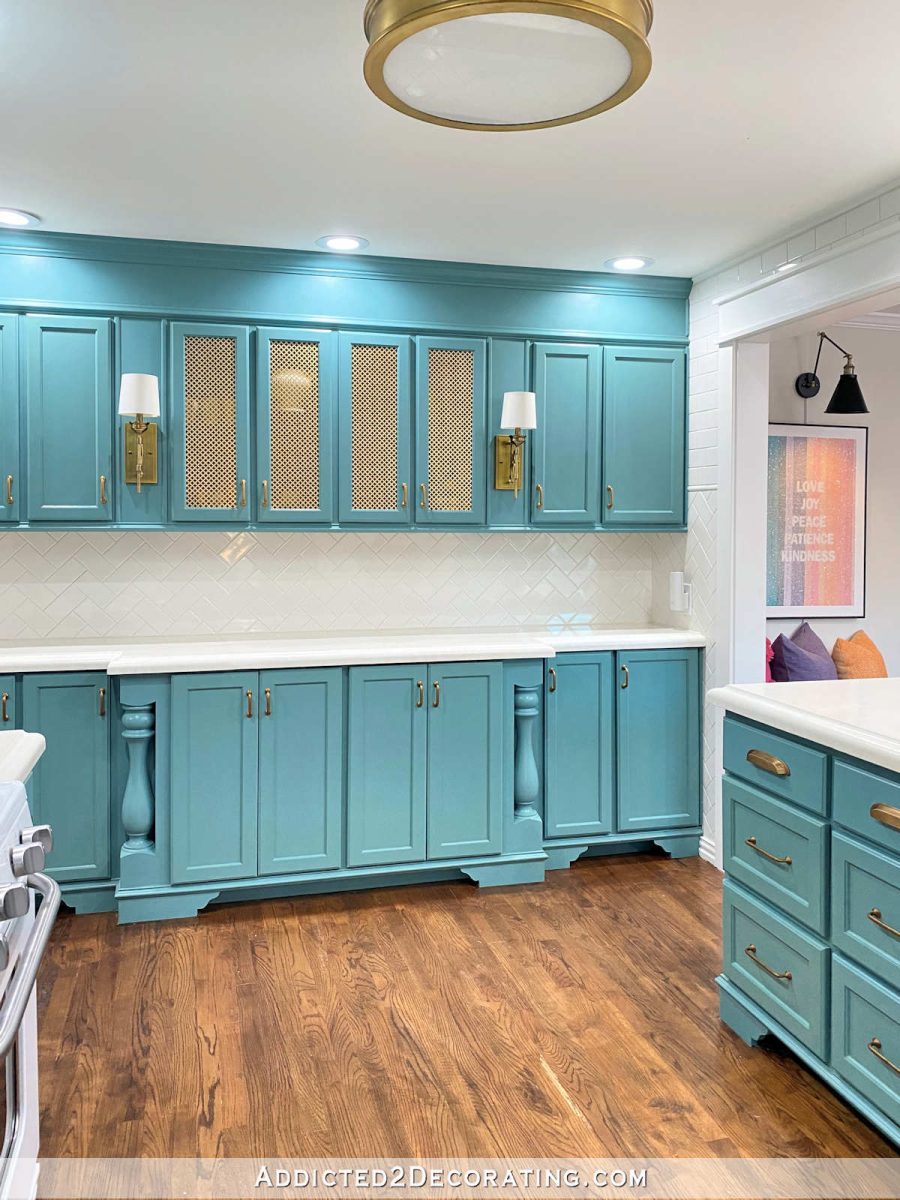 I won't feel any guilt at all removing the inexpensive stock utility cabinets that I used to remodel our kitchen 10 years ago (because that's literally all we could afford at the time), and replacing them with new IKEA cabinets. I'll find a good home for these cabinets. Someone else can put them to good use, and I'll replace them with functional IKEA cabinets that can actually hold a dinner plate, and hopefully a whole lot more! 😀
But do you know where else I wish I had used IKEA instead of building from scratch? The closets in our guest bedroom (which is our main bedroom for now).
I would bet money that if I went back and read comments on posts I wrote about planning these closets, I'd find at least a few comments from people suggesting that I use IKEA Pax wardrobes instead of building from scratch. But back then, I was still turning my nose up at anything IKEA. I just hadn't had any experience with IKEA products (beyond our butcherblock countertops in the condo kitchen), so I just couldn't imagine that such mass-produced cabinets or wardrobes could be worth having in our house.
So I did what I do, and I built the closets from scratch. I put the doors on a track to slide open to the side rather than open on hinges. It was a fun build. I enjoyed the process, and I learned some things along the way.
But once again, now that I have my own personal experience with IKEA cabinets and I know how much I love them, I look back in hindsight and wish that I had saved myself the time and effort of building from scratch, and had gone with the IKEA Pax wardrobes.
Every time I see another person reveal their new Pax closet, I want to place an order and swap out these DIY closets for Pax wardrobes. And again, it's not that there's anything inherently wrong with the DIY closets, but the possible customizations available with the Pax wardrobes make them so user-friendly and ideal.
While I will probably never get my IKEA pantry (which, again, is perfectly fine because I'm content with what I have), I really have started considering the possibility of swapping out the guest bedroom closets for IKEA Pax wardrobes. And, of course, our new bedroom will have an entire wall of Pax wardrobes on the wall shared with the bathroom. I'm so excited about customizing all of that storage space.
So that really is the one big thing I'd change if I were starting this home remodel today. I'd go with IKEA cabinets and wardrobes at every opportunity. Never mind building from scratch when IKEA makes it so easy! It's funny to me how I went from turning my nose up at the mention of IKEA to absolutely loving IKEA cabinets so much that I'll very willingly tell anyone and everyone about them, and I'll do so without anyone paying me. I wish I had taken a chance with them 10 years ago!
Addicted 2 Decorating is where I share my DIY and decorating journey as I remodel and decorate the 1948 fixer upper that my husband, Matt, and I bought in 2013. Matt has M.S. and is unable to do physical work, so I do the majority of the work on the house by myself. You can learn more about me here.