Well, this was completely unplanned. I mean, it wasn't completely unplanned. I've been wanting to make some changes to the hallway bathroom for a a while now, but I just hadn't planned for those changes to start right now. I kind of have my hands full with the studio, the studio bathroom, and trying to get the ball rolling on the addition. But I was thrown a bit of a curve ball last week.
When I bought the quartz for our master bathroom vanities, I had to buy the whole slab, for which I paid about $4000. It was a splurge for that bathroom.
But the bathroom only required half of the slab, so I told the woman who owns the shop that I wanted to use the rest of it on another project. There was no way I was going to let half a slab of quartz that I had paid for be put into the scrap pile. So she's been very graciously holding it for me all this time.
Well, that grace period has run out. She contacted me last week and said that she's closing down her fabrication business, and I needed to arrange to pick up my quartz slab. Ummm… 😀 How does one go about picking up a 10-foot-long half slab of quartz? It's not like I could just drive the van down to the shop and pick it up myself.
So I've been frantically trying to find another stone countertop shop that can go and pick it up for me. I finally found one that could do that immediately, but I knew that no one was going to pick it up and then just store it for me out of the goodness of their hearts. And sure enough, the man picked it up for me yesterday, and then the woman in the office called me almost immediately and asked when they could come out and measure for the countertop. He stopped by at lunchtime yesterday after finishing his scheduled installation and did the measurements, and now my quartz slab is in line for fabrication. So…yeah! We're doing this right now! Because, evidently, I don't have enough plates spinning in the air right now. 😀
But it's fine. I'm really excited about swapping out the dark wood countertop for something lighter and brighter. But one change will lead to another because that's how these things go. I've mentioned the other changes I want to make in past posts, but I was still trying to make decisions and weighing various options when I shared previously. So here are all of my final decisions.
The countertops will go from the current dark wood to the light gray that's in our master bathroom.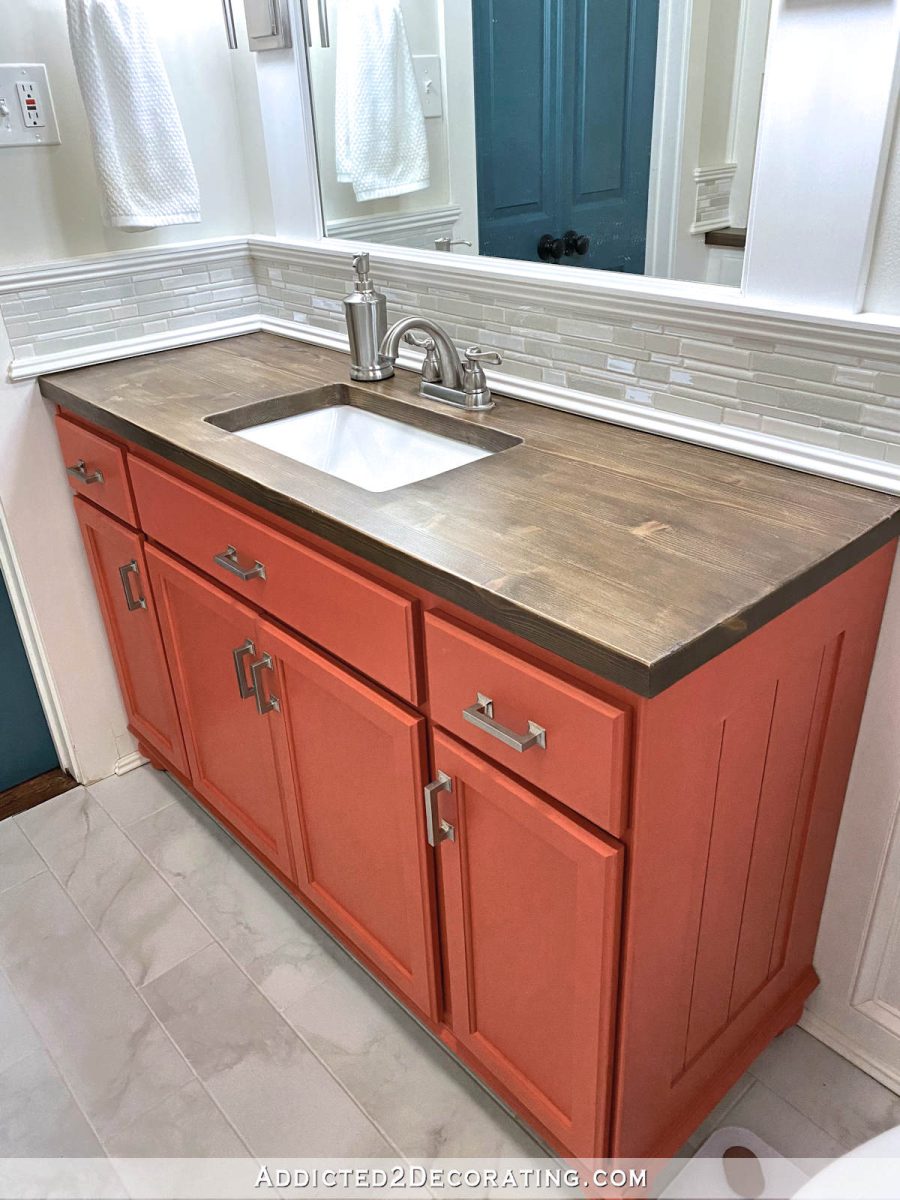 I got the fabric for the new shower curtain last week, and it's so colorful and beautiful! Here's the current shower curtain on the left and the new shower curtain fabric on the right.
The new fabric is just as colorful and fun, but the colors are more me.
The vanity will get a new paint color, and now that I have the shower curtain fabric, I can actually choose a color. It's going to be in that dark pink range from the fabric.
I'll also be replacing the tile. I don't dislike the way that the current tile looks, but I don't like the fact that I had to paint some of the tiles in order to get it to look that way. I installed the current tile when I did the original bathroom remodel, and it was actually quite a bit darker (which you can see on the left below). And then when I did the colorful makeover, I brightened the tile with some paint (which you can see on the right below).
It was fine for a temporary solution, and that temporary solution has lasted for four years. But I don't like the idea of having painted tile as the final look in this bathroom, so I'll be swapping it out for another gray and white tile. I have yet to verify that this tile will go with the new countertop, but if it does, this is the tile I'll be using.
And finally, the sconces will change. I've already shown y'all these sconces, but I'll show you again.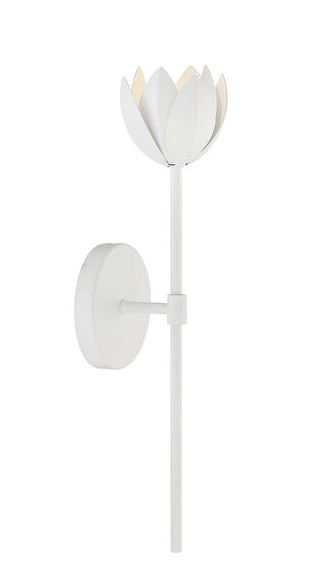 I bought these a while back, and they've been waiting for their makeover. What I really wanted was a flower sconce that is more substantial and looks more hand crafted (like this one) but there was no way I was going to pay almost $450 each for new sconces. So I'll be using air dry clay (and maybe some papier-mâché) to make them look more carved and hand crafted.
I had considered painting the ceiling in the bathroom, but for now, I'll be keeping the stained wood ceiling. I like the warmth it adds to the room, and I like that it's different from all of the other rooms in the house.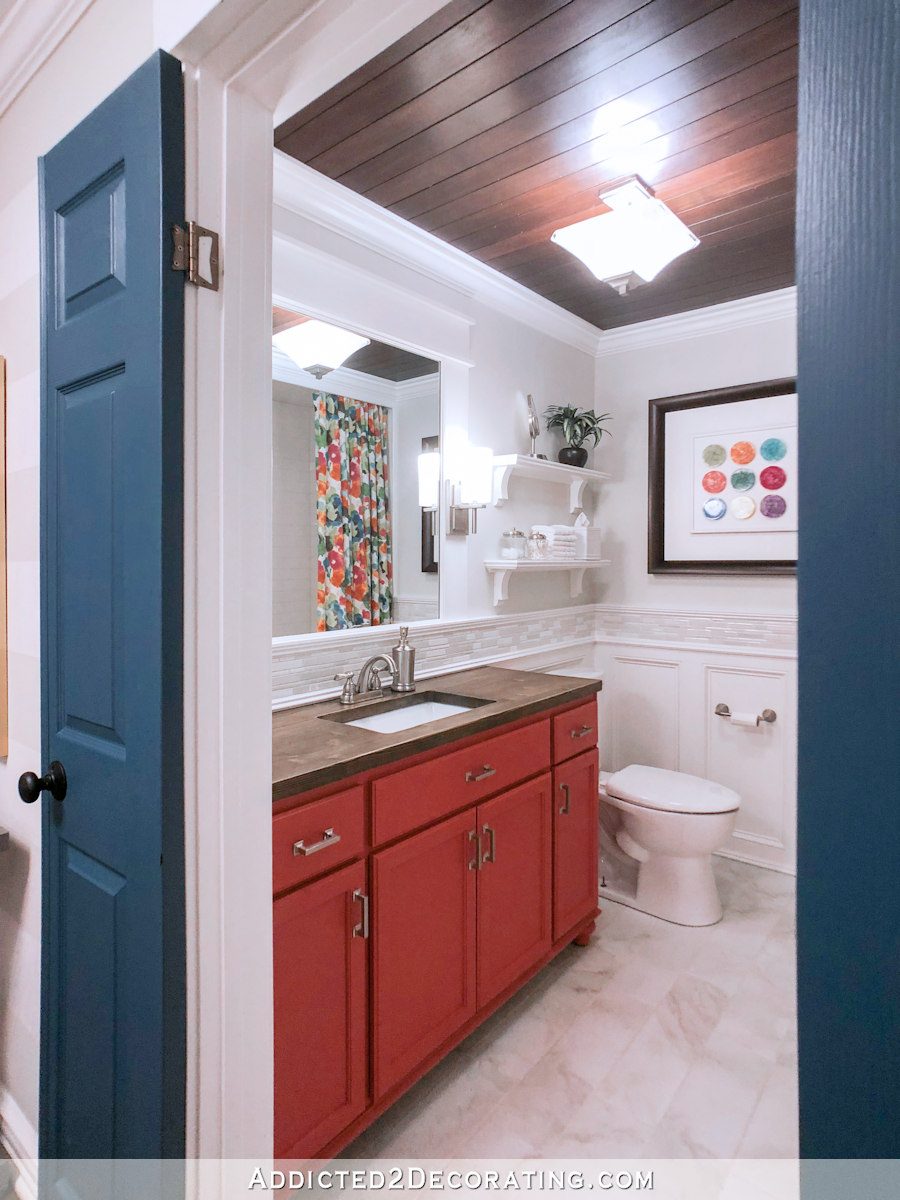 Most of all, I'm just anxious to get rid of that orange vanity. I can't wait to pick out a new paint color and get that painted!! I won't be in a rush to get the rest of this stuff done because I really do want to stay focused on the studio for now, but once the new countertops are in, I just may take a few hours and paint the vanity.
Addicted 2 Decorating is where I share my DIY and decorating journey as I remodel and decorate the 1948 fixer upper that my husband, Matt, and I bought in 2013. Matt has M.S. and is unable to do physical work, so I do the majority of the work on the house by myself. You can learn more about me here.