Do you know what my absolute favorite kind of project is to do? It's the projects that require hundreds (or sometimes over a thousand) little pieces of wood pieced together to create something beautiful.
Okay, I realize beauty is in the eye of the beholder, but to my eye, I really do think there's beauty in repetition. I have three examples of this in our home at the moment.
The second example is my colorful pinwheel art that I made out of over 800 wood tasting spoons. This is my favorite piece of wall art that I've made to date. It currently hangs in our living room.
And the third item is the huge "pixel" art that I made out of 1600 wood button plugs (the little wood pieces that are used to cover over screw holes in wood furniture).
That huge piece of artwork currently hangs on the wall of our music room.
I love working on projects like this. I have no idea why, but the more pieces there are, the more satisfying I find them to be.
Well, I've started another one, and this time it's not a furniture piece or a piece of artwork. It's something I'm applying directly to the wall of the studio bathroom.
So let me back up just a bit. If you'll remember, I had decided on using a simple white tile to replace the yellow accent tiles in the studio bathroom wainscoting. I was tired of this yellow, and since the wall design is going away, these yellow tiles needed to be swapped out as well…
And since I couldn't decide on a wall design, I figured that white tiles would go with pretty much anything. So I got these simple white tiles and planned to cut them down to fit the 6-inch-high accent space on the wainscoting and backsplash.
Well, it turns out that rectangle white tiles don't go with everything. At least, in my mind, they don't.
I finally decided what to do on the walls. I decided to make a new wallpaper that coordinates with the floral in the studio, and that new wallpaper is just a series of squares. Some of you accurately said it looks like a wall covered in paint swatches. I think that's accurate, and what could be better than walls covered in paint swatches for a fun, colorful studio?
But having the walls covered in squares, and then adding rectangles to the wainscoting/backsplash didn't appeal to me in the least. The wallpaper is ordered (and shipped today!), so my mind is set on that. That means that I needed a new wainscoting accent idea.
Penny tile? No, that seemed too…well, I don't even know. Predictable? Elementary? (A room full of squares and circles? Seems like something that's perfect for daycare, but not for my studio bathroom.) I kept thinking that something really skinny would be perfect, like a pencil tile. But doing the entire perimeter in pencil tile, even for my very small bathroom, would be pretty expensive. Plus, I was in the mood for some immediate gratification, so the last thing I wanted was to have to search online, order samples, wait on samples, test out samples. You get the point.
So I headed to Home Depot to see what I could find. Well, I found something! Dowel rods! I did some quick calculations, bought ninety 48-inch-long 3/8-inch dowel rods (at just over $1 each), and brought them home and started cutting them into 6-inch pieces. And then I started gluing.
And I glued, and glued, and glued some more…
I realize that the current wall design is pretty distracting, so you'll have to use your creative eyes to look past that. And you'll also have to imagine the dowel rods (we'll call it a reed backsplash to sound fancy) painted to match the wainscoting. But I love the texture they add! And I think it's a nice juxtaposition to the (future) square design for the walls.
I got them all cut, and I got about half of them sanded and applied to the wall. I still need to sand the other half and get them on the wall.
Once that's finished, I'll probably paint them first, and then add the trim to the bottom. I don't like how they stick out past the trim, so I'll be adding another layer of a very small trim so that the dowel rods (umm, I mean, the reed accent 😀 ) is recessed and doesn't stick out beyond the trim.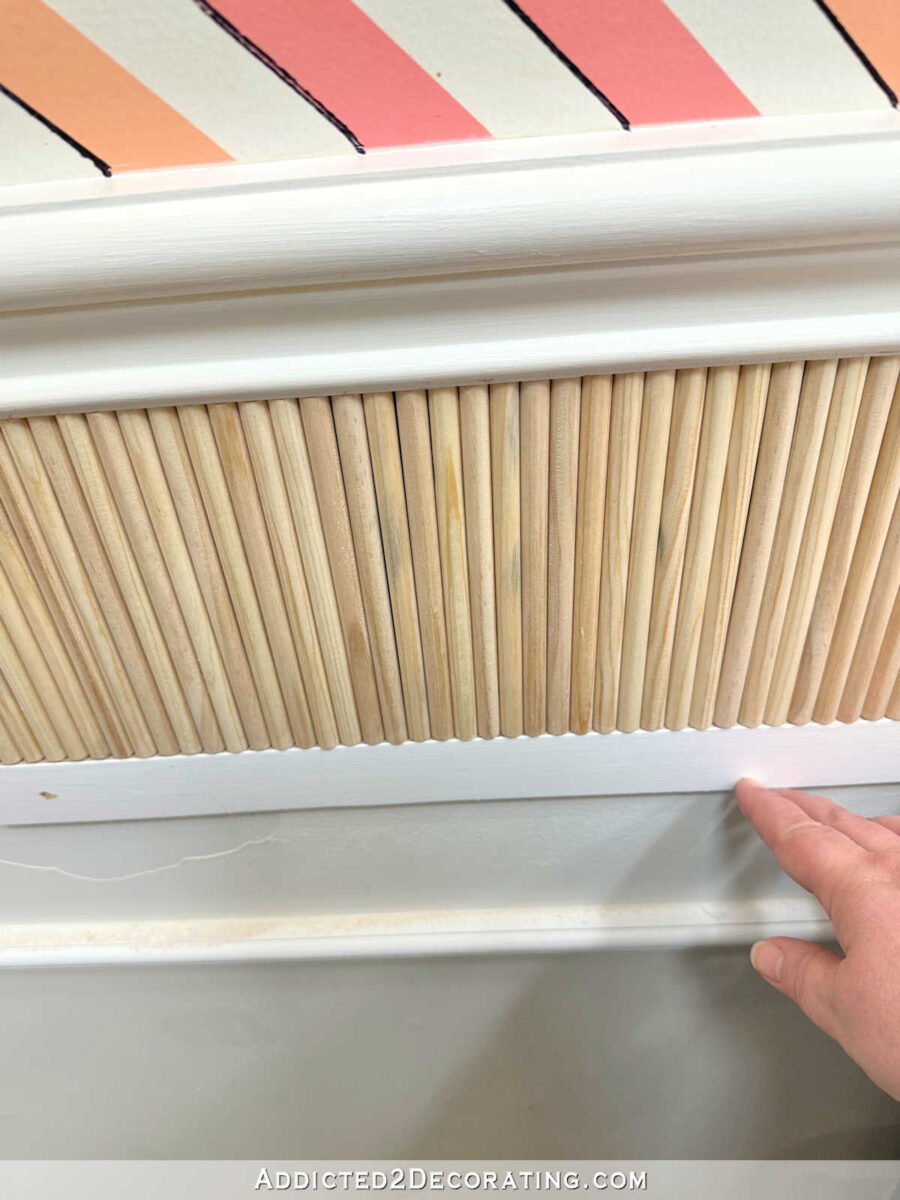 I really love how this looks, and I think it's a great bargain at just around $100 to go around the whole room! I also realize that Future Kristi may be cursing me for using a reed accent around a sink and having them go all the way to the countertop instead of putting a solid piece of trim horizontally around the countertop first, but I don't care. She can deal with that. 😀 For now, I'm just excited to get this done! And since the wallpaper shipped today, I'm hoping that means I'll get it by the end of the day tomorrow, and I can install it this weekend. It would be so encouraging to actually get this little room done and have something in the studio finished!
Addicted 2 Decorating is where I share my DIY and decorating journey as I remodel and decorate the 1948 fixer upper that my husband, Matt, and I bought in 2013. Matt has M.S. and is unable to do physical work, so I do the majority of the work on the house by myself. You can learn more about me here.