If you've been following my studio project, you know that I really wanted to add the floral mural that I created for the long front wall of the studio to the walls of the back entry also. I even did a mock up of it, and started getting really excited about the idea.
But then I was faced with the reality of money and budget and all of those not-so-fun things to think about. Wallpapering the back entry would have cost over a thousand dollars, and while I'm open to some splurges here and there, that one wasn't high on my priority list. So I decided instead to paint the walls a solid color and add lots of colorful artwork to the walls.
I haven't changed my mind. That's still the plan. But I just couldn't let go of the idea of bringing that floral into that part of the room in some creative way. Some of you had suggested framing sections of the mural wallpaper and using it as art on the walls, while others had suggested using it just on the ceiling.
I didn't really want to do either one of those things, so while I was uploading and ordering my large design for the mural wallpaper, I also decided to upload a smaller version of the design and see what it would look like on fabric. For a while now, I've been considering using that floral design on their velvet fabric to reupholster my desk chair. (This is why I use so much velvet for upholstery.) I love how the fabric looks, and I was pretty set on the idea of using it for the chair.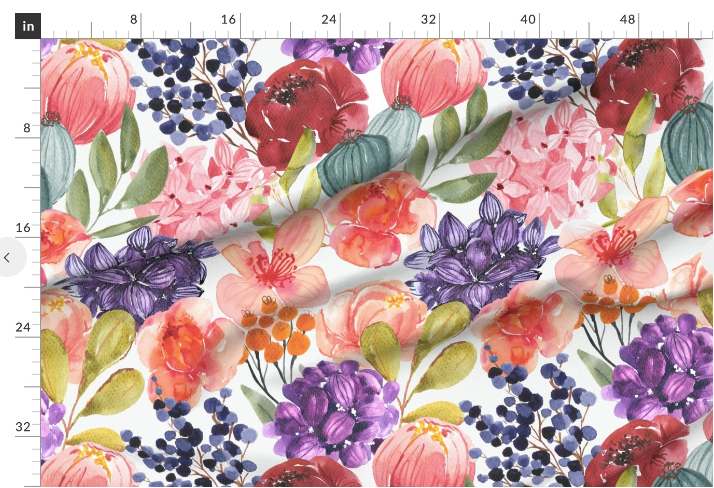 I've really only ever used Spoonflower to upload things that I want to try for my own house, and I've always done so with a very specific project in mind. So while I knew they offered a lot of different products beyond just wallpaper and fabric, I've never really paid much attention to those other products, much less considered purchasing any of them.
But this time, I decided to poke around a little and see what they had, and see how my floral design looked on the various products. It turns out that they offer a lot of different products–everything from fabric and wallpaper to cocktail napkins, throws, bedding, pillows, and curtains.
Tea towels! I may get a few of those for my kitchen. What a fun, bright pattern to have on tea towels!
As I was looking around at everything they offer, I saw those curtains, and thought, "That's it!" I can purchase the fabric and use that to make curtains for the back door! They do offer ready-made curtains, and the price isn't bad. But I don't like rod pocket headers, and there's no option to have them lined. But at least I could see what the fabric looks like made into curtains!
So instead of buying their ready-made curtains, I bought six yards of fabric so that I could make my own lined pinch-pleated curtains. And while it won't exactly give me that same look that having the bold mural on the walls would have, this will still give me lots of the same bold color and pattern at a fraction of the cost. I'm pretty excited about this idea! Here's a little mock up of what the curtains will look like…
I do still plan to paint the walls. That green just doesn't do anything for me anymore. But I don't love the idea of painting the walls a neutral color, either. I like the boldness of the green, but I just don't like that particular green. I don't think it would look good with the cabinet color, which I'm about 95% sure will be the Tuberose color on the left in the picture below.
Maybe I can pull one of the darker blues or purples out of the fabric and use that on the walls. I think a darker blue or purple would look great with the cabinet color. And I've already used similar colors together in the adjacent room (the sitting room) with the buffet color and the curtain color, so I know I like them together.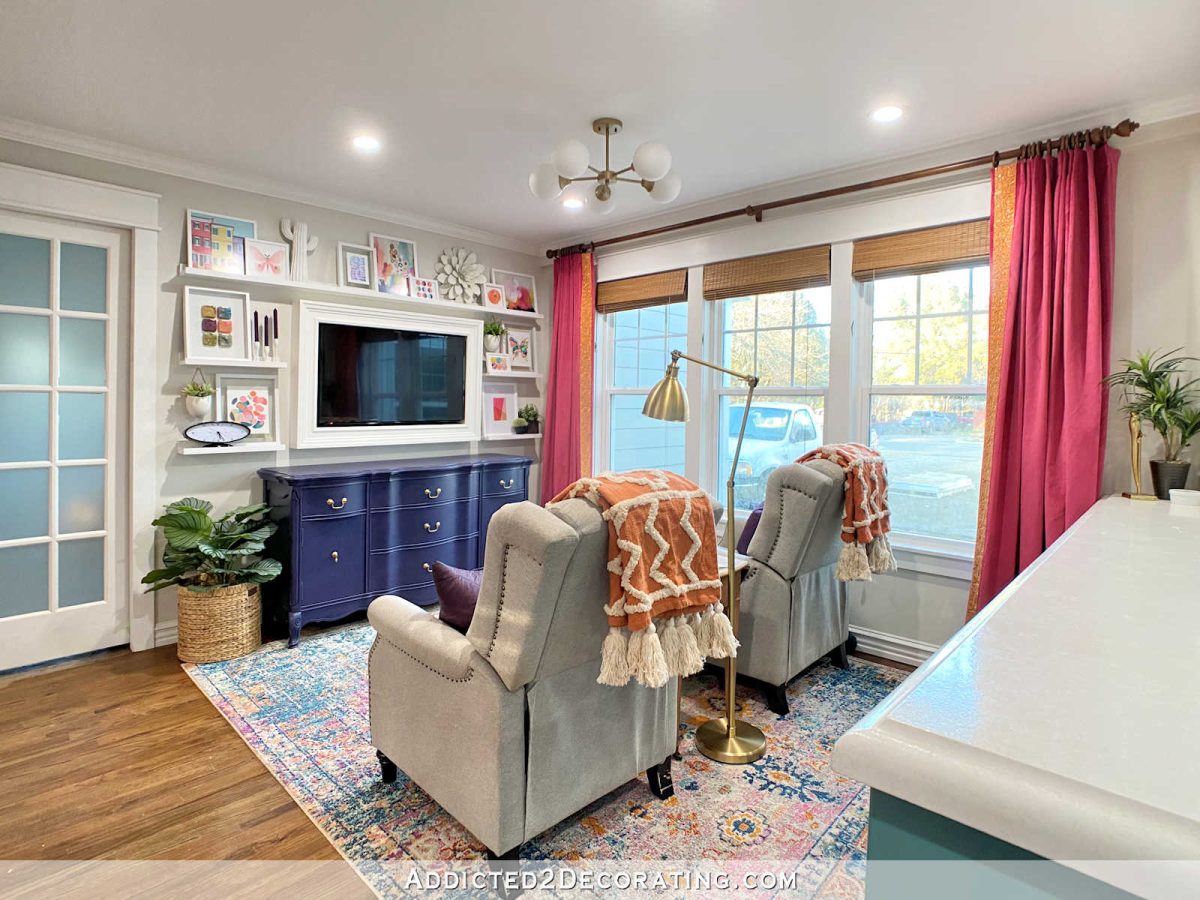 So, we'll see! I should get the fabric tomorrow, and then I can pick up some paint samples and start narrowing down the possibilities.
Addicted 2 Decorating is where I share my DIY and decorating journey as I remodel and decorate the 1948 fixer upper that my husband, Matt, and I bought in 2013. Matt has M.S. and is unable to do physical work, so I do the majority of the work on the house by myself. You can learn more about me here.