I remember when we were still in our condo and I was just beginning to blog about my DIY projects, I had this idea to design and decorate the entire condo using a democratic method in which I present my readers with options, and no matter what the outcome of the vote was, the majority vote would win, and I'd have to implement whatever idea the majority voted for.
That ended up not working out because, at the time, we had very little money, and I had no idea at any given time when I'd be able to actually implement my design and decorating ideas into the condo. I still think it would be an interesting social experiment, but I don't think I'd have the courage to decorate our house in that way. I'm a bit of a control freak, if you haven't already figured that out. 😀 Plus, I like the freedom to change my mind on any decorating decision, and sometimes I do so several times a day.
I do ask for input regularly, but when I do, I pretty much never do so with a "majority rules" approach. At times, I will go with the majority. Very often, I'll have many comments from people giving their input, but it will be one or two comments that really catch my attention with unique, outside-the-box suggestions, or points that I never would have thought of on my own.
But this time is different. I've narrowed down my studio countertop options to two — a light choice and a dark choice. I've been staring at these samples since Tuesday, and still, I haven't budged one way or the other. I like them both for different reasons, and I can't seem to decide between the two.
The dark one is an engineered hardwood flooring from Lowe's, and the color is Saddle Hickory. Each piece is 3/8″ thick, 3.5″ wide, and 4 feet long. It's $2.99/square foot. The light one is an engineered vinyl plank flooring from LL Flooring in the color Capistrano Beach Oak. Each piece is 1/2″ thick, 7.5″ wide, and just over 4 feet long. It's $3.19/square foot.
Here are both of them next to the wallpaper (the old wallpaper, not the new one with the edited colors, but this one will have to do for now), the floor paint colors, and two paint colors that are similar to the color that will go on the cabinets.
I love both of them! I like that the light one is…well…light. And I like that it's that happy medium between a natural (brownish) wood tone and a light gray wood tone. It comes off as a warm gray, just like the Classic Gray that I used on the floor, except that it's a touch more on the brown side than the floor color. And I think the light would be very pretty with the cabinet color.
On the other hand, I love the richness of the dark sample. And I don't think you can ever go wrong with a neutral dark wood in most rooms. I think it looks beautiful with the floor, the cabinet color, and the wallpaper. Darker wood adds such a beautiful warmth to a room.
I do happen to have an example of a dark wood countertop with a warm color on cabinets in our hallway bathroom. This is the butcherblock-style countertop that I made nine years ago. As an aside, I've never found this dark wood countertop difficult to keep clean, and it's in the most used bathroom in our house. So I'm not really concerned about the dark countertop being hard to keep clean in my studio.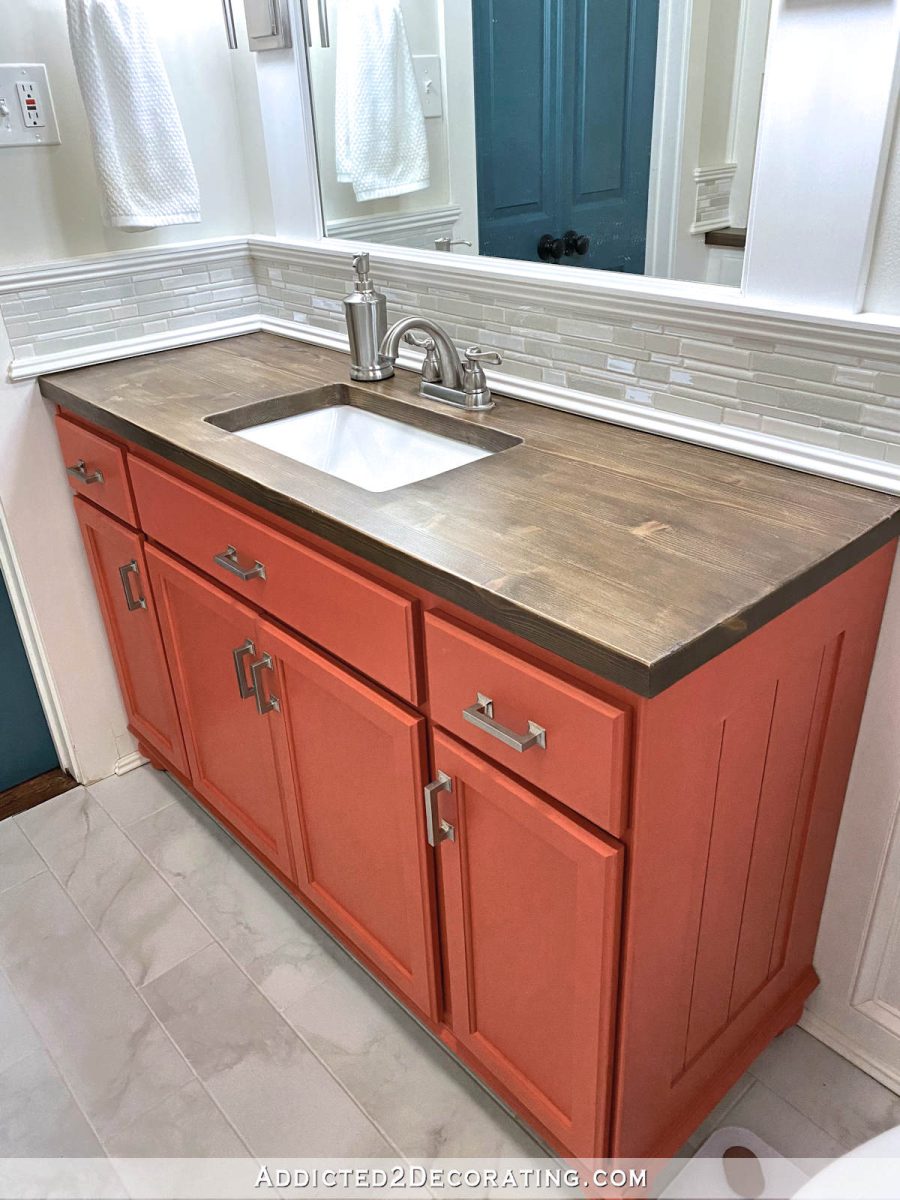 So y'all get to decide, and I'll go with the majority on this because, quite frankly, I'm tired of trying to make this decision. What say you? Light countertop or dark countertop?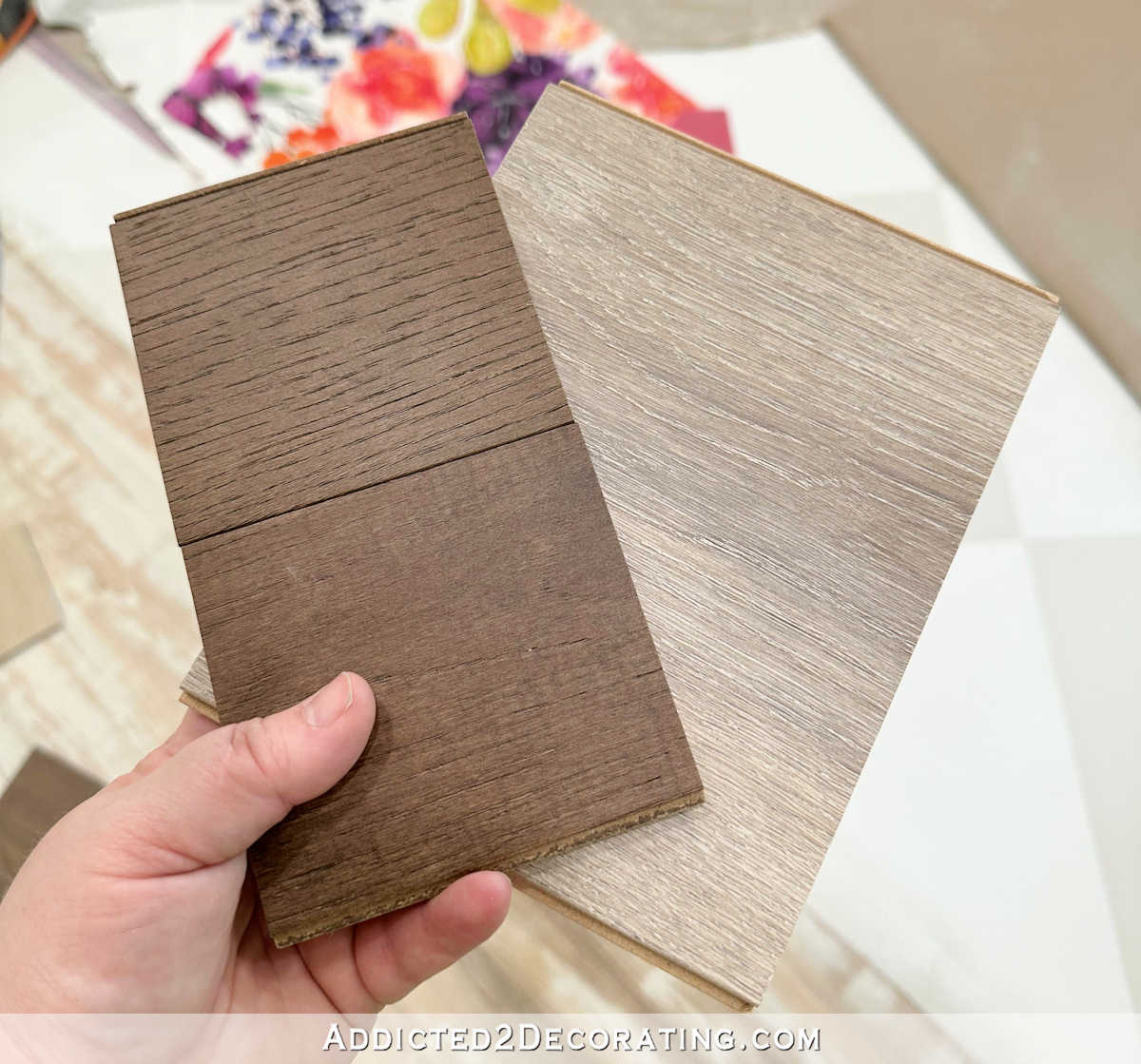 I'm glad I don't have to think about it anymore. 😀 It's up to y'all!
Addicted 2 Decorating is where I share my DIY and decorating journey as I remodel and decorate the 1948 fixer upper that my husband, Matt, and I bought in 2013. Matt has M.S. and is unable to do physical work, so I do the majority of the work on the house by myself. You can learn more about me here.