After my terrible week spent in bed last week, I was finally able to get into the studio yesterday and make some progress. And it felt so good to be back to work! I had originally planned on starting with painting the ceiling, and then working my way down. But I decided to do the opposite. I'm starting with the floor, and then once it's done, I'll cover it with protective paper, and then paint the walls and ceiling.
I continue to get comments and messages from people urging me not to redo the studio floor, but it's too late. 🙂 It's already in progress, and it really needed to be done. As I was going through the boxes that had been lining the walls for years now, and getting rid of things that I no longer want, I noticed more and more problems with the floor. Things had leaked through the boxes and stained the floor in several places. Here's an example. I have no idea what this purple stuff is, but it was on two different places on the floor.
Here's the other purple stain (maybe ribbon that got wet?), but you can also see how some of the actual floor boards had changed color over the years. See how dark and streaky this had become?
I had those darkened boards and areas all over the floor. I've come to learn that there's probably no way to completely hide the tannins in red oak for the long haul. At some point, no matter how much prep work you do to have those nice, beautiful, white oak floors, the tannins in the red oak will eventually make their way to the top and darken the finish. So after several years, the floor was no longer bright and white. It was dingy with brown/amber streaks in places.
And then over here to the right of the side door is where I had the two-foot-square area of water damage that I told you about. It wasn't horrible, but it also wasn't insignificant, and it would have been just in front of the bank of cabinets that will go on the wallpapered wall.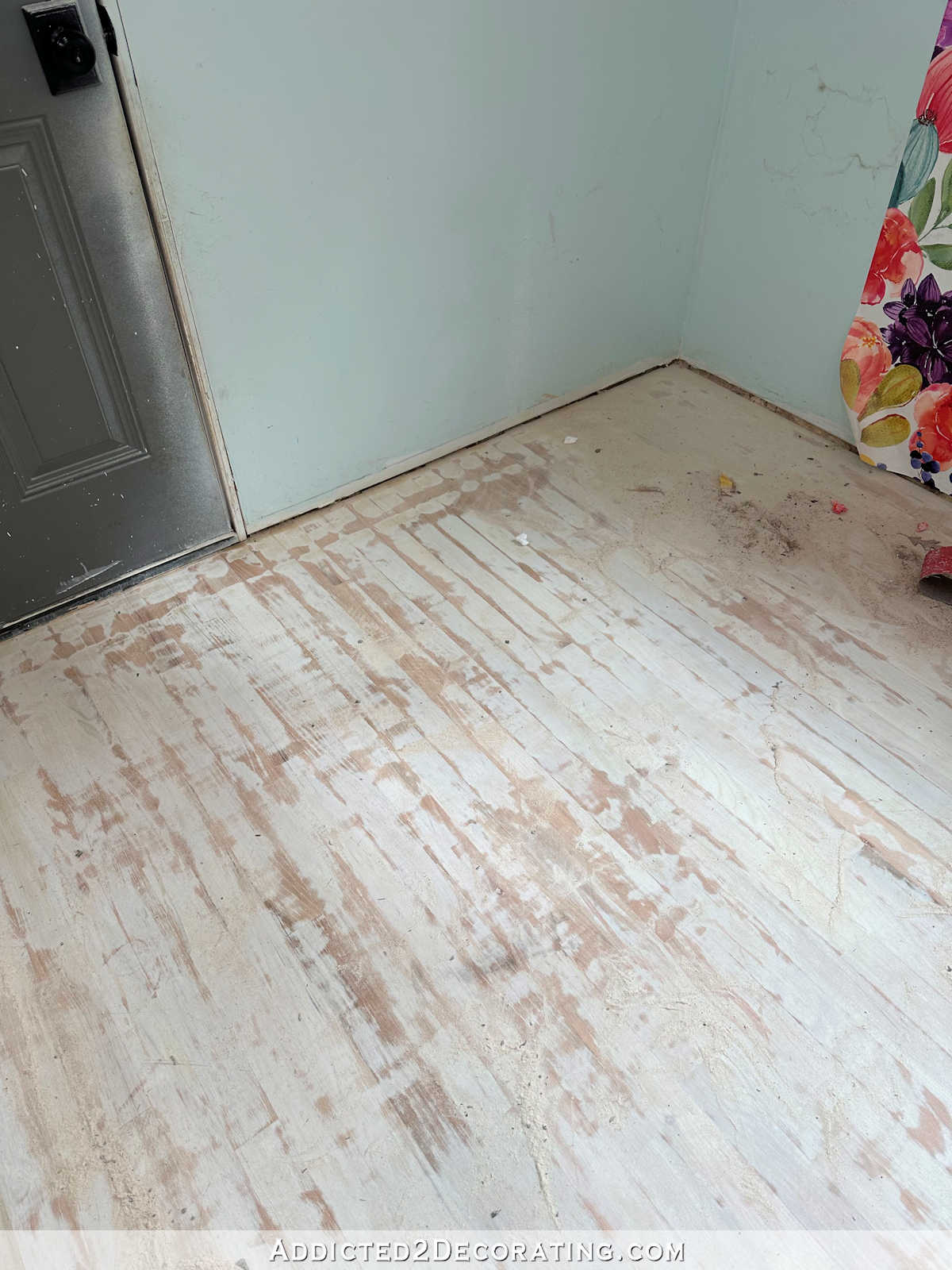 So as you can see, I've started by using my hand held belt sander to sand the floor. I'm concentrating on those stained and damaged areas the most, but I'm also just giving the whole floor a good scuff sanding so that the primer will have some tooth to grab onto. The topcoat that I used on these floors is still very smooth, so I wouldn't want to put primer directly on top of it without scuffing the surface first.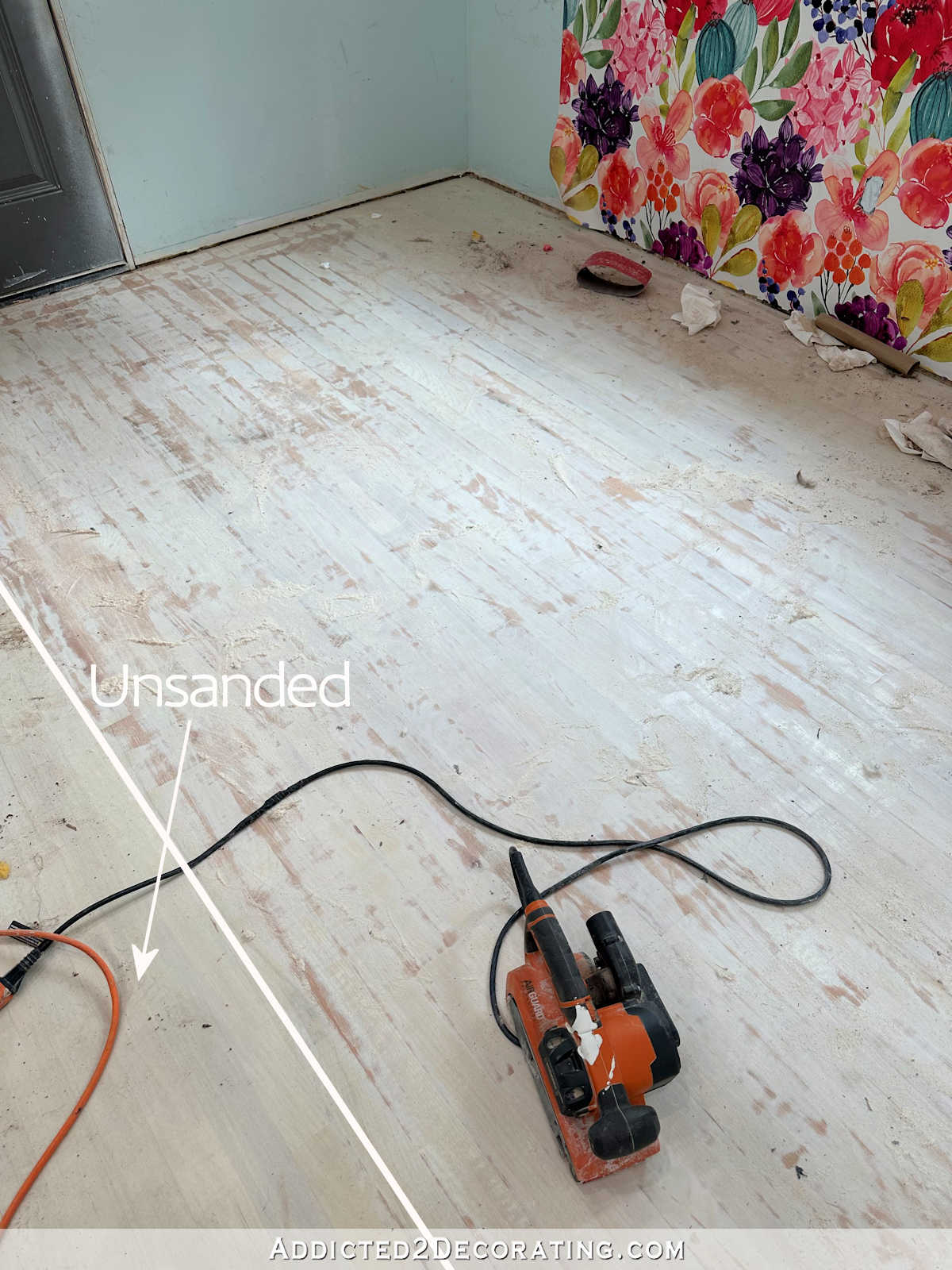 In addition to those areas that had become really dark and streaky, you can also see from above how the entire floor (see the unsanded area compared to the sanded area) had just darkened in general. I don't know if that's from the topcoat darkening over the years, or if it's the reaction of the tanins in the floor, but the entire floor is significantly darker than it was when I finished these floors years ago.
So hopefully it's a little more obvious now why I want to redo the floors. I know some would say, "I can't believe you're not more careful with your floors!" But that's the point. This is a studio where I'll be using lots of art products — oil paints, acrylic paints, resin, dyes, etc. — and a studio floor needs to be able to take some abuse. I need to have a floor where I can drip paints, resin, dyes, etc., and then when things get a little too out of control for my taste, I can have an easy fix to make them look good again. The obvious solution in my mind was a painted floor.
The frustrating thing about redoing the floor is that I realized very quickly that I'd only be able to do half of the floor at a time. So this will be an interesting process as it unfolds. Right now, I'm working on this side of the room…
While the other side of the room looks like this…
I originally had this grand idea in my head that I'd be able to pack everything up nice and neat into boxes and store them somewhere, and then roll my tables out of the room while I work on the whole floor.
Well, that's ridiculous. I'm down to this studio as my last room that needs to be finished, so there's literally nowhere to store a whole bunch of boxes outside of this room. We use every single room in our house, and Matt can't have a bunch of boxes in his way. And then there are the tables. Those are 61 inches square. The only possible way to get them out of the room is through the back French doors and under the carport. But with the weather we've been having lately (thunderstorms, hail, tornado warnings), I really don't want my two tables outside, even if they are under a carport.
So the only solution I could come up with was to do the floor in two parts. I'll do the side I'm working on now — sand, wood fill, prime, and paint — and when it's dry, I'll cover it with the protective paper and move everything to that side of the room and get started on the other side. Then when that side is done, I can assemble my cabinets, put those into place, and then have actual places to store these things while I finish up the studio.
It's not ideal, but sometimes we have to make do and create workarounds when we live in our DIY projects! 😀 And I have full confidence that it'll work out in the end.
As a side note, I took the advice that many of you gave me yesterday. My sweet mom read my post yesterday and immediately texted me to say, "I'll come help you!" So she's here today to help me get my house back in order after last week. And as several of you suggested, I also moved the location of our Wednesday gathering. For this week, we'll be gathering at someone else's house, and that will give me more time to get things in order around here. I went from stressed out yesterday morning to feeling zero stress today. 🙂 And that gave me the freedom to work on my studio yesterday instead of stressing out about my house.
Addicted 2 Decorating is where I share my DIY and decorating journey as I remodel and decorate the 1948 fixer upper that my husband, Matt, and I bought in 2013. Matt has M.S. and is unable to do physical work, so I do the majority of the work on the house by myself. You can learn more about me here.
I hope you'll join me on my DIY and decorating journey! If you want to follow my projects and progress, you can subscribe below and have each new post delivered to your email inbox. That way you'll never miss a thing!