Yesterday, I was hard at work on the front porch again, taking full advantage of our gorgeous weather, and I finished up the ceiling. It took me a lot longer than I expected because I ended up caulking between each and every board before painting the second coat. That was tedious work, but I'm a perfectionist, and seeing the little cracks between those boards was driving me a bit crazy.
I ended up adding some white paint to the blue that I selected (Behr Air Blue), and then added just a touch of green by adding a little bit of Behr Mythic Forest (a dark teal that I've used inside our house in several places) to the mix. It turned out perfect!
Now I need to go back and touch up the white trim. Really, all of the white trim on the front porch could use a quick touch up.
I'm still working on the painting and repair projects, but of course, my mind is drifting to the fun decorating projects. And this year, I finally want to get some chairs for the front porch. This area by the windows is just calling for chairs, don't you think?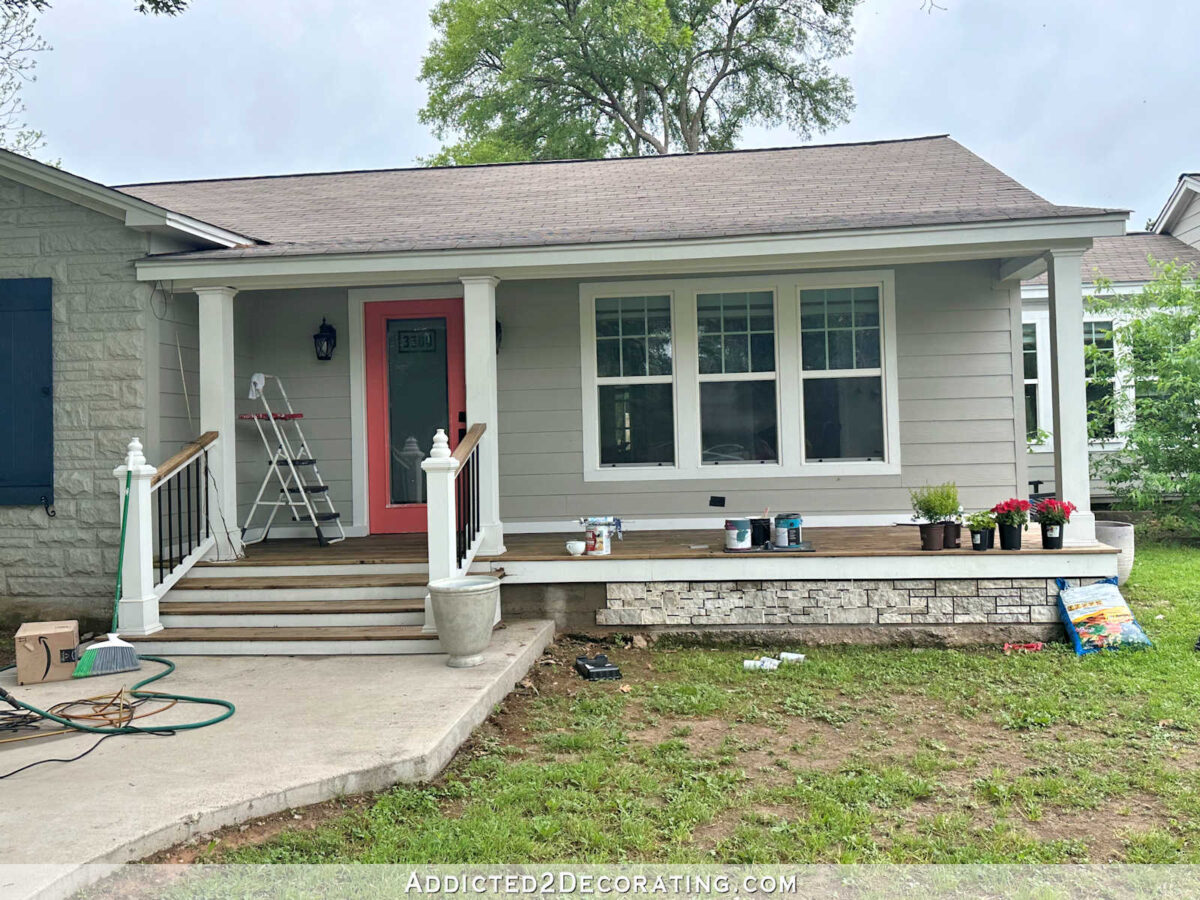 I've looked high and low, searched on Amazon, Wayfair, Home Depot, and just about everywhere else I could think of, to find the perfect outdoor chairs for our front porch. Since the front porch is only 68 inches deep, I ruled out rocking chairs almost immediately. I knew I wanted some sort of outdoor rattan/wicker looking chairs with cushions. Beyond that, I wasn't sure what I wanted.
But after looking at just about every possibility on the internet, I've narrowed it down to two options, both of which I found at Amazon. (These are affiliate links.)
The first style is one that I would consider more traditional. I love a dark wicker chair on a front porch. Don't these look comfy? I love that they have those thick cushions, and not thin, wimpy cushions. This set of 2 chairs is $399.
I did a (very bad) mock up to see what they might look like on my front porch. I'm sure I didn't get the proportions right, but I just wanted to get an general idea of what they would look like.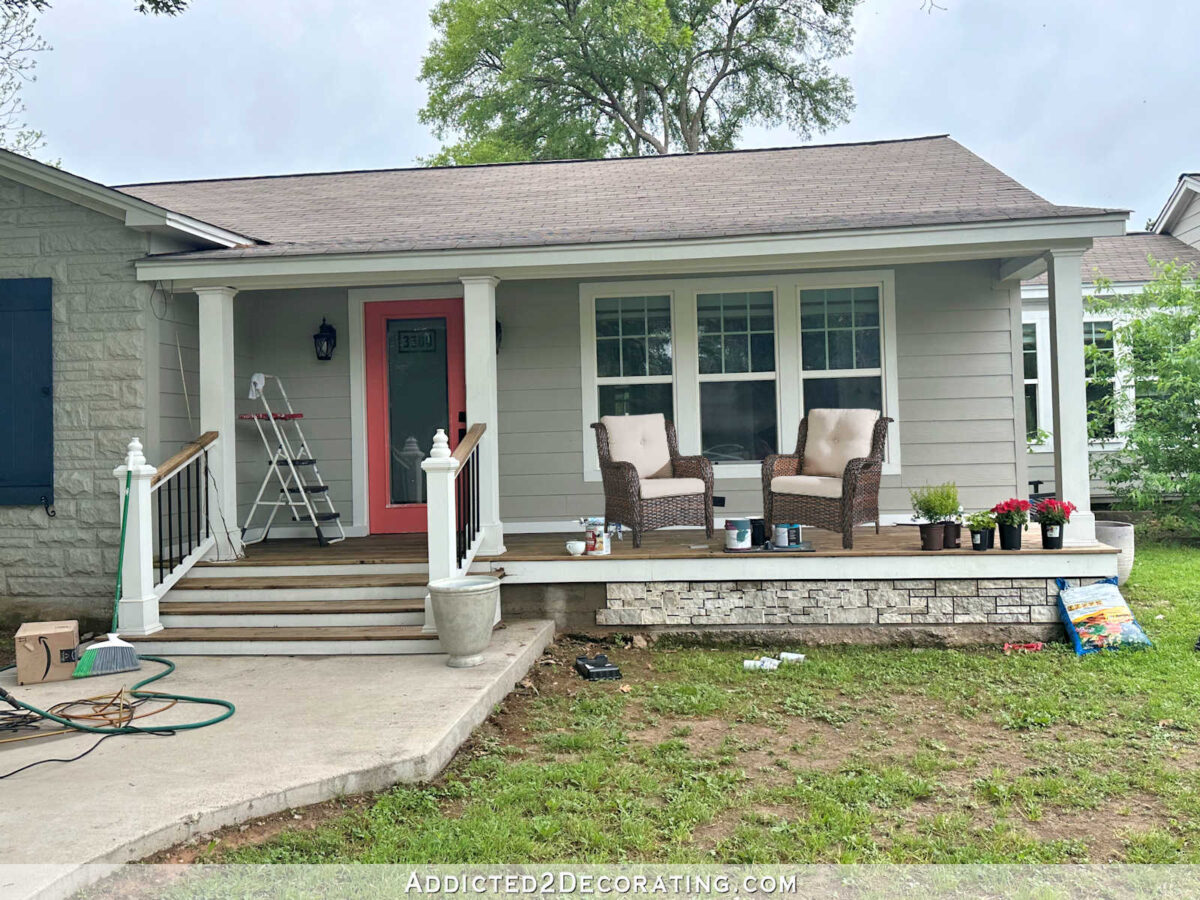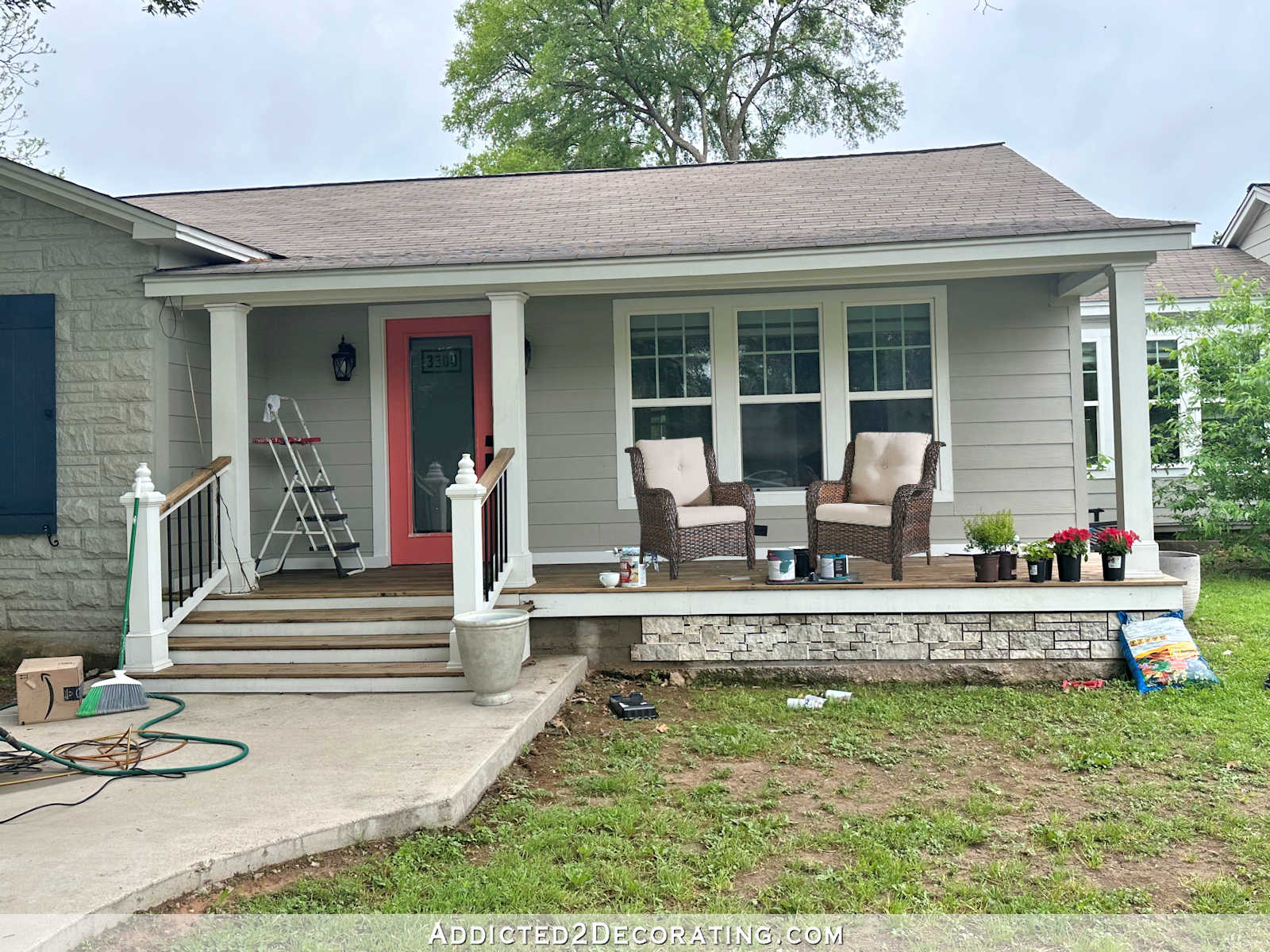 I like those a lot! My porch is 68 inches deep, and the chairs are 35 inches deep. So there would be 33 inches (three inches shy of three feet) between the chairs and the front edge of the porch. I think that's plenty of space.
The second option has a distinctly more modern look, with an overall lighter and airier look to them. This pair costs $313.
These are 31.5 inches deep, so that would leave 36.5 inches between the chairs and the front edge of the porch. And here's another very bad and out-of-proportion mockup 😀 …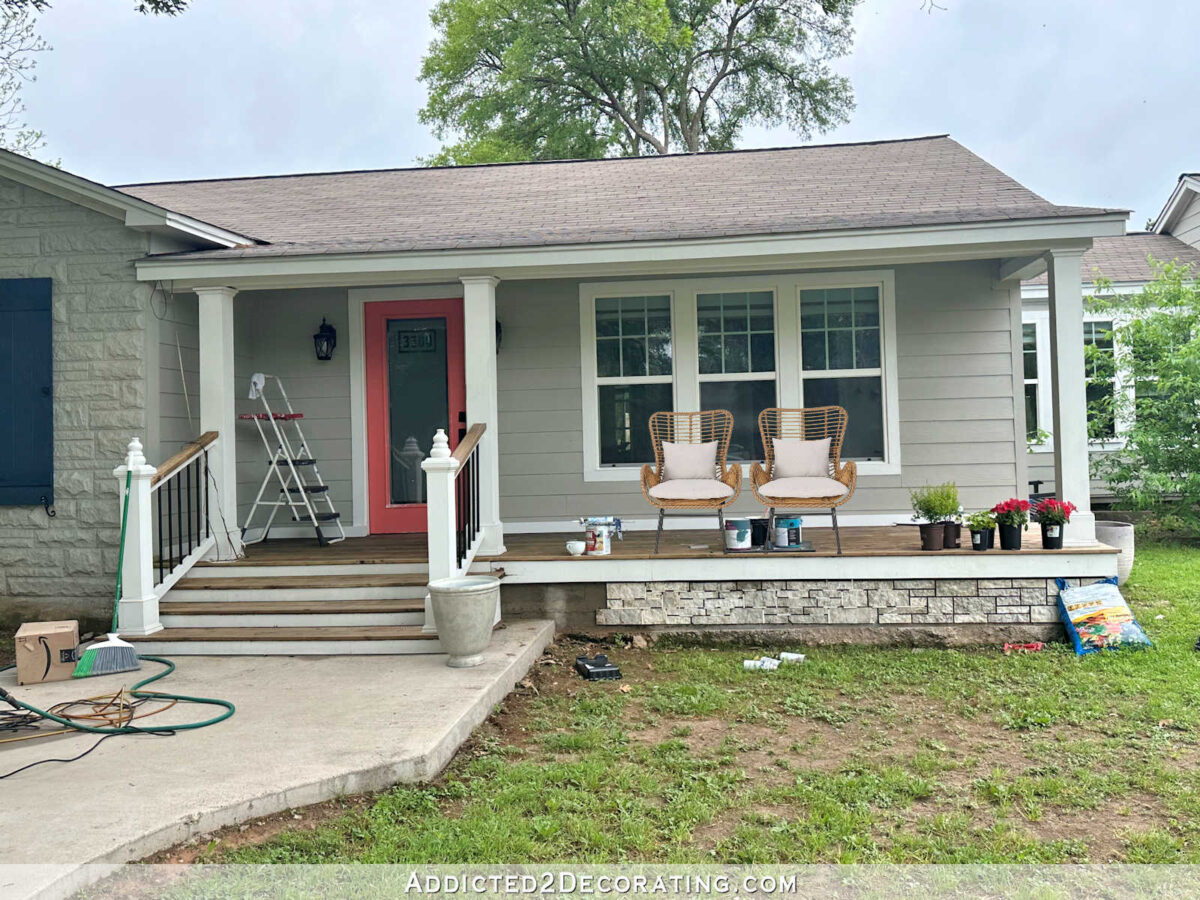 So this seems to be a recurring theme with me, and has been for years. It's a pull between traditional and modern. I love both, and I try to incorporate both into my decorating. But for the front porch, I just can't make up my mind which direction I want to go. This is, after all, the first impression that people will have of our house. I want it to be a preview of what they'll find inside. So which pair do you think gives a better preview of the interior of our house?
Addicted 2 Decorating is where I share my DIY and decorating journey as I remodel and decorate the 1948 fixer upper that my husband, Matt, and I bought in 2013. Matt has M.S. and is unable to do physical work, so I do the majority of the work on the house by myself. You can learn more about me here.
I hope you'll join me on my DIY and decorating journey! If you want to follow my projects and progress, you can subscribe below and have each new post delivered to your email inbox. That way you'll never miss a thing!