I decided a few days ago that I was going to order IKEA cabinets for my studio, and just be done with agonizing over options. I've spent hours over the last three days poring over the cabinet options that IKEA offers, and I have my selections in my online shopping cart. I've done everything except hit that final order button. So let me show you what I've selected.
First, here's the drawing I did way back in 2017 (wow…2017!!) of the front wall of the studio.
This is the wall with the floral wallpaper. It actually looks like this…
So the idea is to have floor-to-ceiling cabinets on either end of the wall, and one lower cabinet in the middle. Here are the IKEA items that I found to work on this wall.
First up, this base cabinet with six drawers for the center in a 24-inch depth.
All of the cabinets are Sektion (that's the name of their whole kitchen cabinet line, and then you choose the color/style of doors and drawer fronts to use on them). For the drawer fronts and cabinet doors, I selected the Veddinge white.
I selected Veddinge white because it's costs less than the rest, and it comes with no details on the doors and drawer fronts. This is a bonus for me since that makes adding trim very easy (which, of course, I plan to do.) I'm also going to paint them, so the original color doesn't matter to me. After selecting these, I remembered that John and Sherry from Young House Love used IKEA cabinets in their current kitchen, and they painted them a custom color. I looked, and found that they, too, used the Veddinge white, and then painted them a soft pinkish mauve color. So I feel pretty confident that I can add trim and paint these with no problem.
For the lower cabinet on the two outer sections, I went with this three-drawer base cabinet in the 24-inch depth…
And for the uppers, I went with this 15-inch-deep cabinet…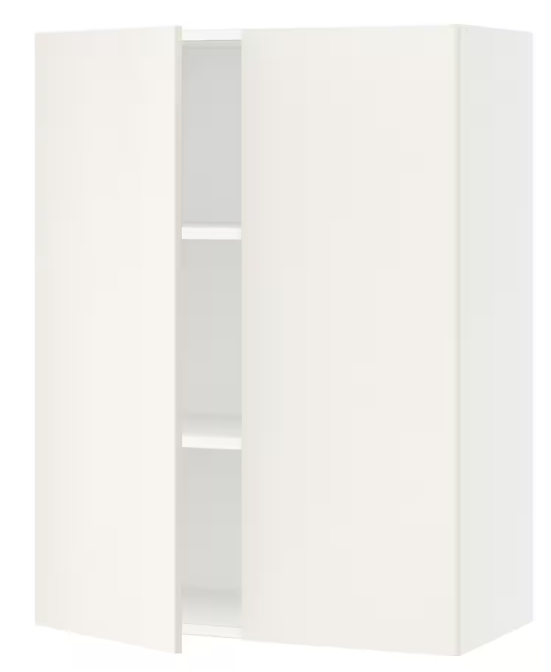 And on top of those, I'll use this shorter 15-inch-deep upper cabinet…
So once I put all of those together, the wall will look something like this…
I mean, that's pretty close to my original vision. And once I get it all trimmed out (I'll add crown molding around the top), I think it'll look fantastic!
For the wall in the "office" zone of the room, this is what I had originally envisioned…
Here's what that wall actually looks like…
I decided to add more storage to this area than I had originally planned, so instead of having the middle section open underneath the countertop, I'm going to add drawers.
For the two tall sections on either end, I chose these 15-inch-deep base cabinets…
On top of those bases, I'll use these 15-inch-deep upper cabinets…
And then I'll top those off with these shorter 15-inch-deep upper cabinets…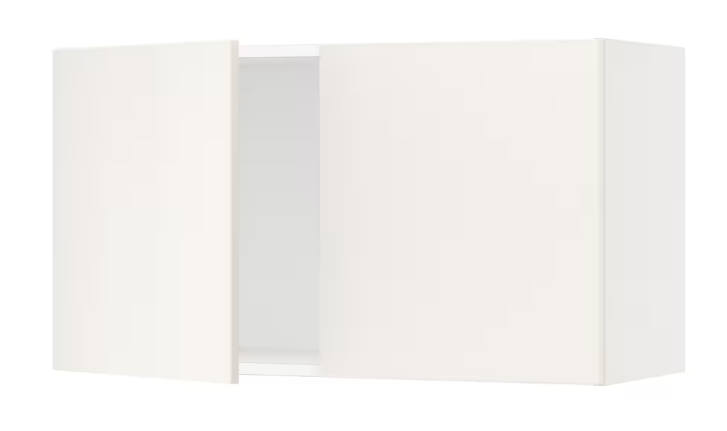 And for the middle sections, I selected these 15-inch-deep bases with three drawers.
So once all of that is put together, it will look something like this…
The cabinets for that wall will need some spacers between them to make them fit the space properly, but it'll work.
That leaves the wall just inside the doorway from the breakfast room. You can see the 15-lite door that leads to the breakfast room in the picture below, and I had planned to put a large bank of cabinets on the wall to the right of that door.
I actually didn't select anything cabinets for that wall yet. I just simply can't decide how I want that wall arranged, and then I started to question whether I even wanted or needed cabinets on that wall. So I'm going to hold off on that for now. Maybe I'll do some open shelves, or maybe that wall doesn't need any storage at all. All of these other cabinets, in addition to the storage closet that's in the room, may be all the storage I need for the room.
So all together, the cabinets for those two walls come to $3948.00. I still need to add some side panels to my order. And then sales tax (for the cabinets, minus the side panels and filler strips) is $325.71, and shipping is $179.00. So altogether, I'm looking at around $4600.00. And then once I get them, put them together, and install them, I'll add some trim, paint them, and add some pretty drawer pulls and knobs. So once all is said and done, I'd estimate that these two walls of cabinets will come in at around $5000.00.
That seems like a very reasonable price for cabinets that I don't have to build from scratch, and that come with doors, drawer fronts, hinges, etc. Don't you think so?
Addicted 2 Decorating is where I share my DIY and decorating journey as I remodel and decorate the 1948 fixer upper that my husband, Matt, and I bought in 2013. Matt has M.S. and is unable to do physical work, so I do the majority of the work on the house by myself. You can learn more about me here.
I hope you'll join me on my DIY and decorating journey! If you want to follow my projects and progress, you can subscribe below and have each new post delivered to your email inbox. That way you'll never miss a thing!