I crossed a major hurdle with the home gym progress last night. As of last night, all of the trim is painted, all of the stripes on the walls have been touched up, and the outlet plates have been installed and painted. This was beginning to feel like the never ending painting project, so I'm very relieved and excited to finally have this done!
I originally painted these striped walls in June 2021, and then the room sat unfinished as I turned my attention to the master bathroom remodel. But if you want to see how I did the stripes, you can check out the DIY process here.
When I started working on this room again, after finishing the bathroom remodel, things looked like this…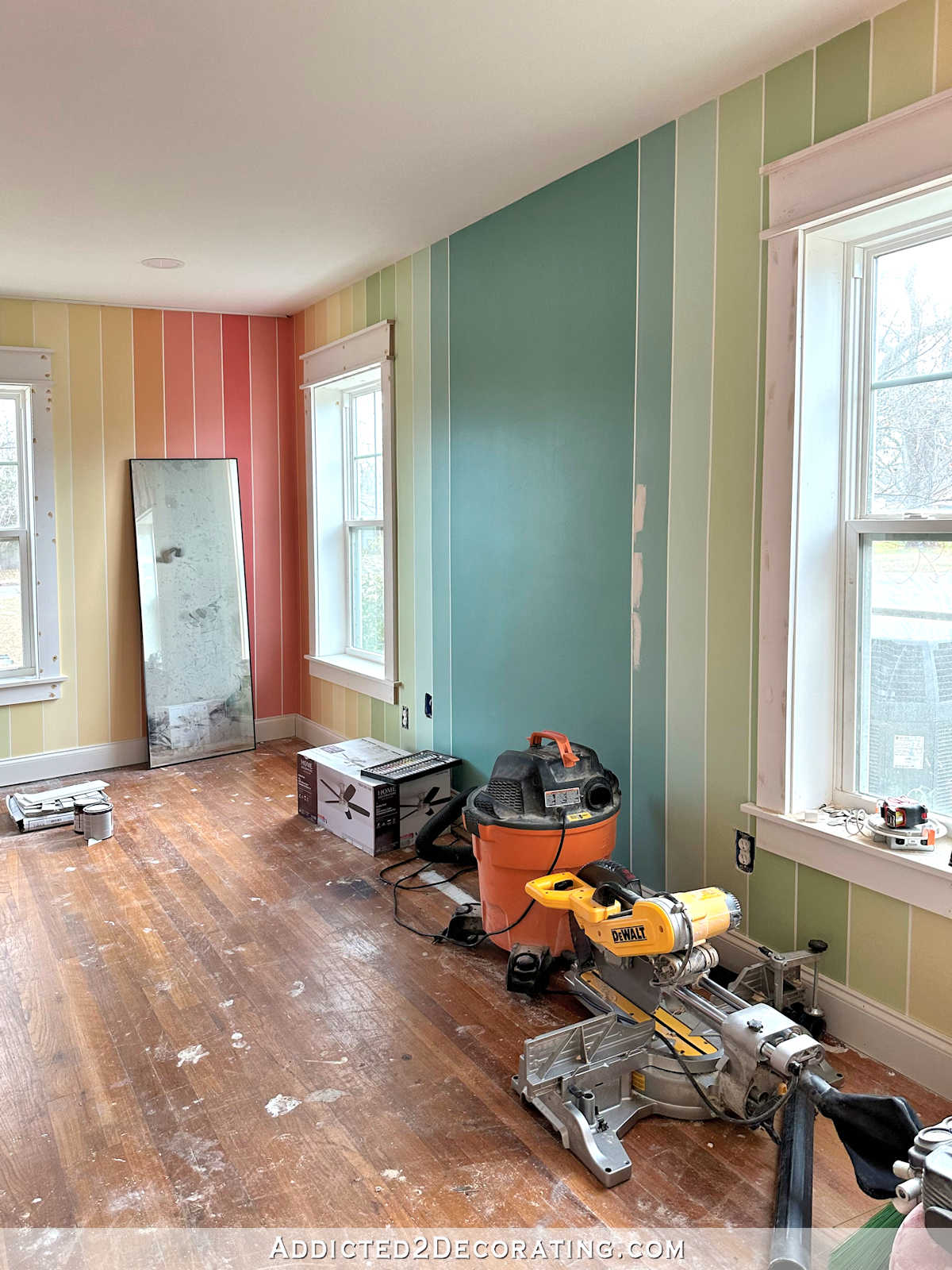 About half of the trim around the ceiling had been installed, so I still needed to install the rest, wood fill, sand, caulk and paint. All of the door and window trim had been installed and wood filled, but it still needed to be sanded, caulked, and painted. And then the walls needed a ton of touchups.
Here's a bit of irony. I initially wanted to install crown molding in this room, but after installing one piece, I realized that I didn't like how it looked in this room. But not installing crown molding put me in a bit of a bind because when I painted the stripes on the walls, I did so with the mindset that they'd be capped off with crown molding at the top, so I didn't bother with painting the stripes perfectly along the ceiling.
So in order to avoid having to touchup every single stripe in the room along the ceiling, I decided to install this small trim around the ceiling…
Well, my plan completely backfired on me. When I tried to paint that small trim white to match the ceiling, I couldn't get the paint line perfect enough for my liking where it met the wall. (In general, I'm doing a lot better with my perfectionism, and may even call myself a "recovering perfectionist," but there are some areas, like paint lines, where I'll never get past my perfectionism.)
I didn't want to use painters tape on the walls because, as I learned when I originally did the walls, that can become a nightmare with the tape peeling off parts of the stripes, including the tiny white stripes between the colors. So I ended up not even trying to be perfect about painting the trim white, and then I had to go back and touchup the top of every single stripe in the room. So all I ended up doing with that little trim was adding work that I didn't need to do. 😀
Isn't hindsight a great thing? Oh well. We live and learn, right? At least it's all finished now, and I can move on to other things.
Being in this room is like living inside of a pack of Fruit Stripe gum, and I absolutely love it! 😀
The large teal stripe is where I'm going to build a Swedish ladder (aka, stall bars).
And please note how meticulously I incorporated the outlet covers into the wall design. 😀
When I want to paint outlet covers, I always purchase the kind that covers the entire outlet and is labeled "paintable". They have a texture to them that allows the paint to adhere very easily, and the paint doesn't scratch off of them like it will if you paint the shiny plastic type. I've had one of these on the outlet on the end of the peninsula in my kitchen since it was last painted in 2017, and that outlet is used frequently, and it still looks great. Here's a closer view of one of the outlets.
I could seriously stand in this room and stare at all of this glorious color all day long. I was telling someone just yesterday that I had assumed that as I got older, my love of color might start to wane a bit, and I'd just naturally start to gravitate towards calmer, more neutral interiors. But I feel like the very opposite is happening.
As I've gotten older, my love of color has only grown more intense, and I find myself continually looking for ways to add more and more color to my home. I'm very blessed to have a husband who doesn't mind my love of color.
The one rule he always gave me was "no pink walls", but even that has become more of a running joke than an actual rule. I know for a fact that if I really wanted to paint a room pink, he'd have no problem with it as long as it's not hot pink. That's his line in the sand. 😀
Even as recently as last night, I was still planning on painting the two doors in this room black. But now that I see the finished walls and trim in the daylight, I'm leaning towards white. I feel like black might be too jarring for these walls. I'll be using plenty of black in the rest of the room (starting with the entire floor), but I now think the doors should be white.
Now that the walls are done, I think that things are going to start coming together quickly in this room.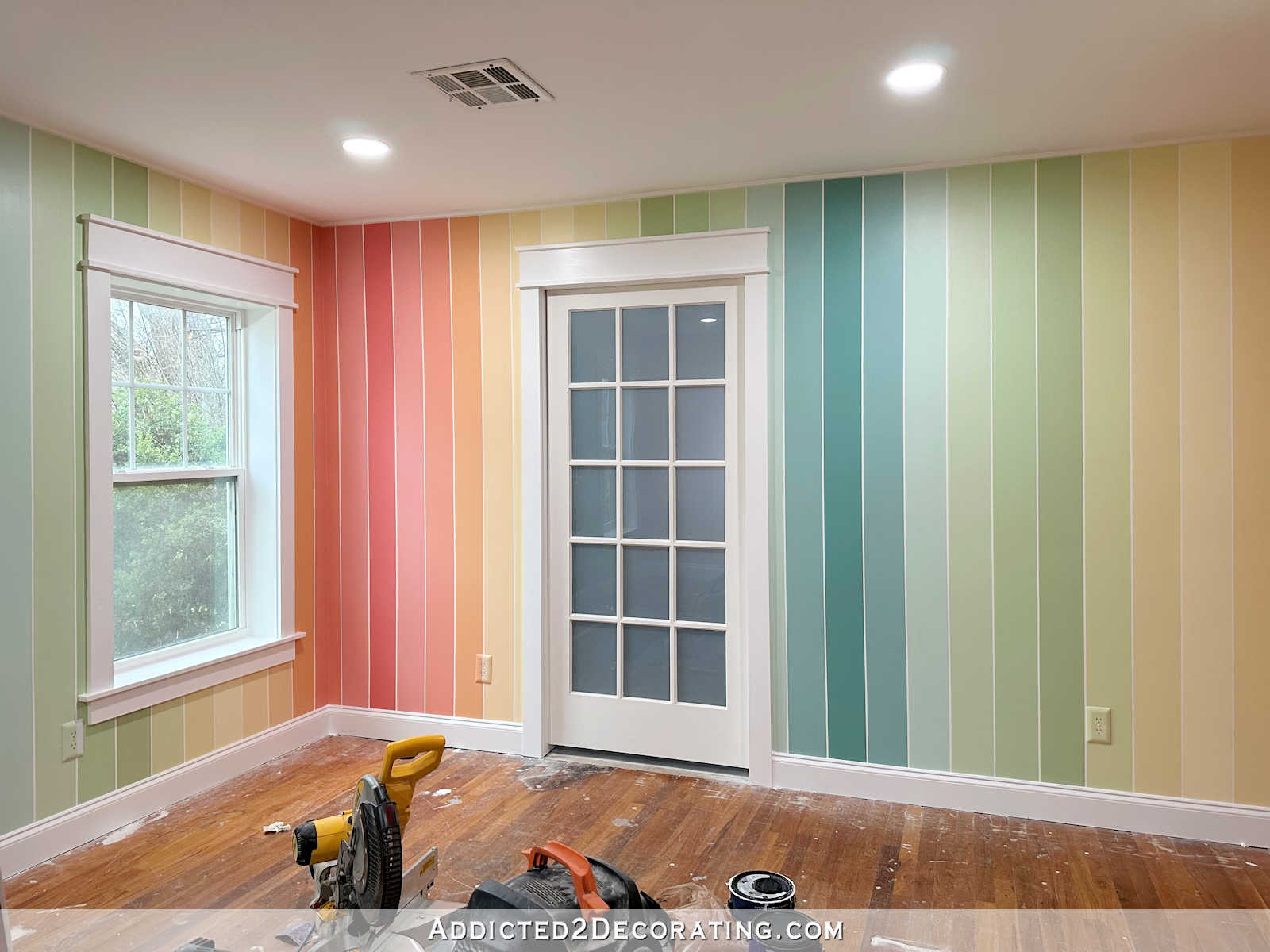 I still have a few paint touchups to do on the ceiling, but that should be very quick. And then I need to paint the doors. That should finish up the painting in the main part of the room (I'm ignoring the closet area for now).
I have all of the foam gym flooring that I'm going to use, so it can go down as soon as I get the room cleared out (again) and clean the floor. The window shades were delivered on Saturday, and I've had the curtains, curtain rods, and curtain rings for a long time now. Both of the lights that I want to try out for the "entryway" of this room have arrived, so I need to unbox the second one and decide for sure which one I want to use. And the dresser that I bought for the closet area has been delivered.
Barring any unforeseen circumstances, I feel pretty confident that this room will be done by the end of this month! I will be ecstatic to finally have this room done, and to have a functional home gym!!
Addicted 2 Decorating is where I share my DIY and decorating journey as I remodel and decorate the 1948 fixer upper that my husband, Matt, and I bought in 2013. Matt has M.S. and is unable to do physical work, so I do the majority of the work on the house by myself. You can learn more about me here.
I hope you'll join me on my DIY and decorating journey! If you want to follow my projects and progress, you can subscribe below and have each new post delivered to your email inbox. That way you'll never miss a thing!