My mind can never be still. I'm always thinking, always planning, always dreaming. And after mentioning the other day that I want to make some changes in the hallway bathroom, I haven't been able to stop thinking about it. It's been our main bathroom ever since we bought this house. It's been the only bathroom for showering and getting ready for the day for 9.5 years now. But now that we have a real, finished, functioning master bathroom, this room only needs to be a guest bathroom.
So with its new purpose as only a guest bathroom, it just feels right to make some changes. I decided that I wanted to do some updates because, after living with the vanity in its current color for a couple of years, I've decided that it's just too orange for my taste. I'd like it to be a bit more pinkish coral. Here's what it looks like now.
*This post contains affiliate links.
And then I shared that the shower curtain is a little too "primary colors" for me as well. I dug into my fabric stash, found the leftover fabric from the living room pillows (aka, my favorite floral fabric ever), and draped it over the shower curtain rod to see what that would look like. I added this picture to the post a few days ago, but I added it as an edit later in the day, so many of you may have missed it.
It's perfect. I love that fabric so much, so I'm definitely going to use that. And that gives me lots of colors to choose from for the new vanity color. I'll choose a color from those big pink flowers.
Well, after I shared those upcoming changes a few days ago, I remembered that I still have half a slab of the Vicostone Elysian quartz that we used for the master bathroom countertops. I had to purchase a whole slab, and they only used half of it for the bathroom. It's been sitting at the countertop place with my name on it, and I'm sure they'd like to get it out of their way. The plan had been for them to deliver it to my house, and for me to store it until I'm ready to use it (I had been thinking about our future laundry room), but I could use the rest in the hallway bathroom!
I still need to go pick up the sample and test it out in this bathroom, but I'm very hopeful that it will work. The floor and the accent tile in the wainscoting both have gray in them. I'm just hoping it's the right gray.
Here's a reminder of what that countertop looks like…
It's gray, but it reads as light and bright, rather than dark. While I've loved the warmth of the wood countertop in that bathroom, and I've been absolutely amazed at how well a pine countertop has held up in there (especially considering that it's been our main bathroom all this time), I think I'm ready for a change. And since the slab is already paid for, I'd just have to pay fabrication costs.
I'm not sure what to do with the wood ceiling, though. I still love the way it looks, and I like the warmth it adds to the room. But y'all can tell me what you think. Keep the dark stained wood? Or paint it white like the music room ceiling? I feel like once the wood countertops are gone, the wood ceiling will seem a little random since it won't relate to anything else in the room.
Here's another peek of the room as it is now where you can see the ceiling…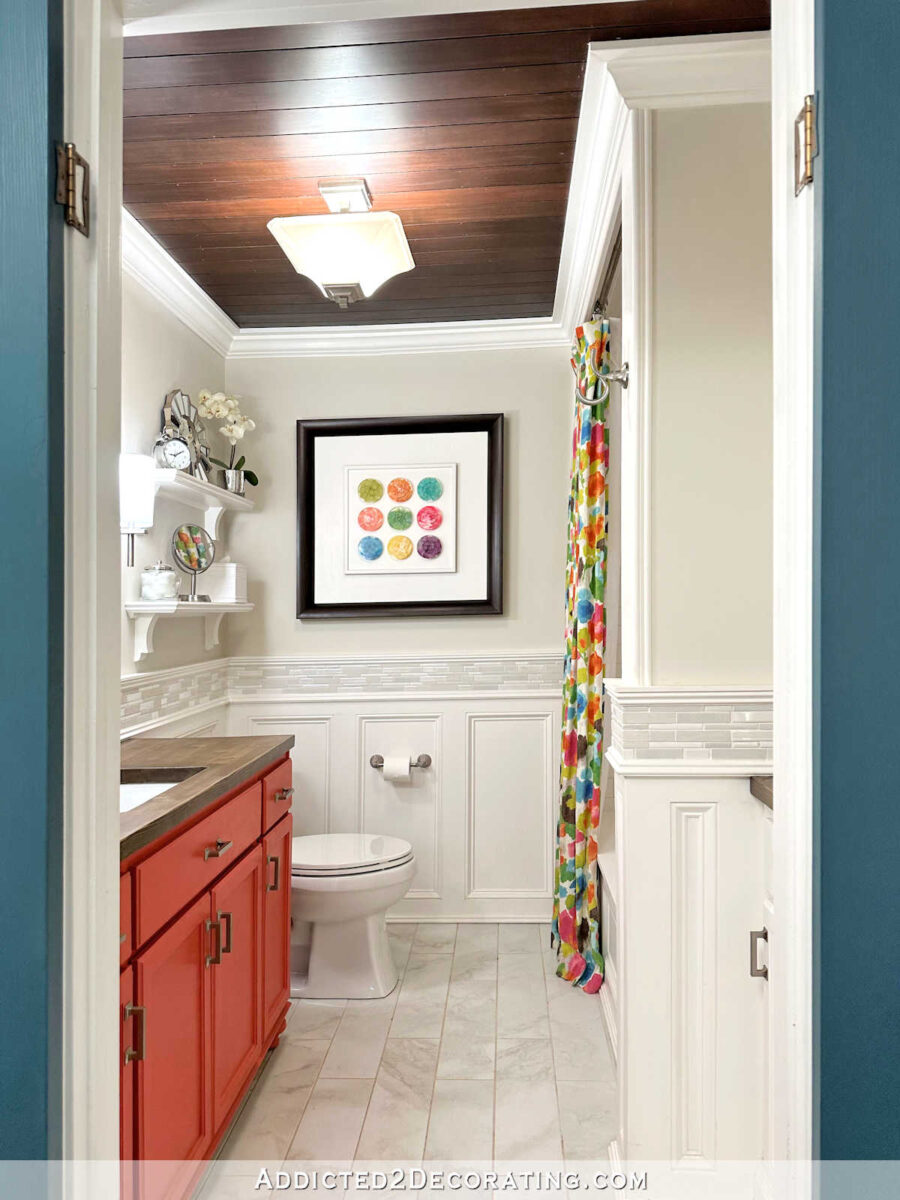 And for comparison, here's the same ceiling (both are made with 1/4-inch plywood cut into 4-inch strips) painted white…
So you can let me know what you think. Keep it stained, or paint it white?
I also mentioned the other day that I want to change out the fixtures to gold/aged brass. This bathroom is the only room in the house that has brushed nickel metal in it. The rest of the house has either black or gold/aged brass metal. So I've spent a little time looking at faucets and sconces.
Faucets aren't that exciting, but sconces are very fun to shop for. I've been keeping my eye out for some pretty sconces while I scroll Instagram, and the other day, I was stopped mid-scroll by some amazing sconces in a bathroom. I stopped immediately and searched for them to see how much they cost. Here's the sconce…
That is the Visual Comfort Alberto wall sconce in Plaster White, and it costs $439.00. Of course it does. And y'all know me better than to think I'd consider paying almost $900 for two sconces for a guest bathroom.
And then I saw this one by the same company. This is the Visual Comfort Alberto wall sconce in the medium size, also in the White Plaster finish.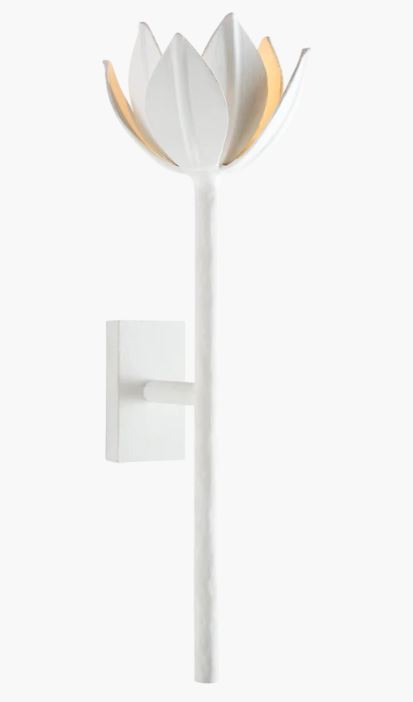 I liked that one even more, but it's $579. As much as I love it, I could never justify paying $1158 for two sconces. They're little works of art, so there's nothing wrong with their price. I'm just not their target customer. I'm more of a Target customer. 😀
But I wasn't quite ready to give up on the idea of flower wall sconces, so a bit more searching led me to this sconce…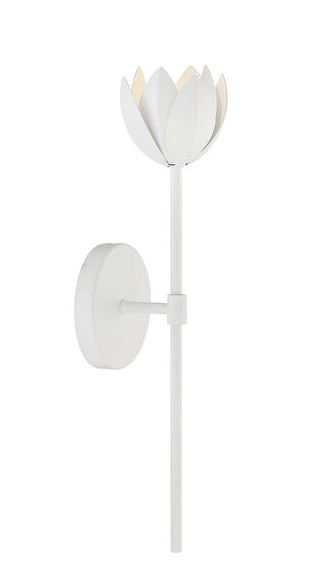 That is the Meridian Lighting 19-inch LED wall sconce from 1-800Lighting. Do I like it as much as the Visual Comfort light? Nope. It doesn't have that hand sculpted plaster look to it. I doesn't look as substantial. And it doesn't have the gold inside the petals. But at $122 (on sale right now for $103.70), it's more in my budget. And if I really wanted to, I think I could do some DIYing and make the cheaper sconces look more like the expensive ones.
All of the sconces also come in a gold finish. Here's what the inexpensive one looks like in gold.
After seeing what the expensive sconces look like in a gold finish (a really beautiful gold leaf look), the inexpensive sconce in gold looks cheap to me. The funny thing is that I probably would have loved it had I seen that sconce first. But seeing the expensive ones first set my expectations too high.
So as of this moment, I'm leaning towards the inexpensive white ones with some DIYing to make them look more like the expensive ones. I like a challenge. 🙂
I still don't know when I'll make these changes. I'm really focused on the home gym right now, and I don't wan to lose momentum on that. And I really do need to get my studio finished. But the studio will be such a big job, with more cabinet building than I've ever done, so I might need to take a few days here and there to focus on other fun projects so that I can stay motivated. I have a feeling that it'll be during those breaks that I'll tackle these projects in the hallway bathroom.
Addicted 2 Decorating is where I share my DIY and decorating journey as I remodel and decorate the 1948 fixer upper that my husband, Matt, and I bought in 2013. Matt has M.S. and is unable to do physical work, so I do the majority of the work on the house by myself. You can learn more about me here.
I hope you'll join me on my DIY and decorating journey! If you want to follow my projects and progress, you can subscribe below and have each new post delivered to your email inbox. That way you'll never miss a thing!